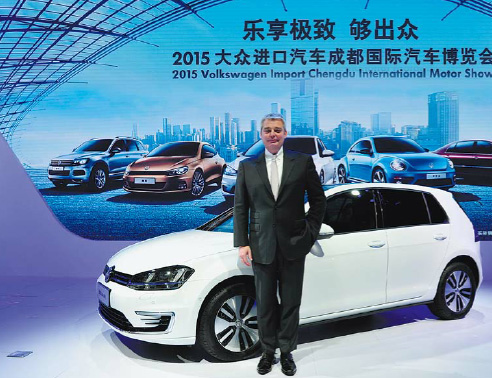 Till Scheer, managing director of Volkswagen Import, with the all new Golf GTE at the Chengdu Motor Show, says environmental awareness is increasing in China. [Photo provided China Daily]
Volkswagen Import has presented 16 vehicle models to the ongoing Chengdu Motor Show, with the lineup led by Volkswagen's first plug-in hybrid-the all new Golf GTE.
In addition to the unveiling of the all new Golf GTE, Volkswagen Import has invited Taiwanese celebrity race car driver Roy Chiu to explain the details that make the all new GTE so special.
Managing Director of Volkswagen Import Till Scheer, said: "From January to July this year, total sales of new energy vehicles in China grew by a factor of 2.6 compared to the same period in 2014. This clearly shows that China is witnessing a trend toward increased environmental awareness."
"The all new Golf GTE will be a high-performance yet eco-friendly product available to Chinese consumers," Scheer said. "We will have more newenergy models providing more green travel choices for Chinese consumers by the end of 2016."
Prioritizing environment
The all new Golf GTE comes from a Gran-Turismo based family of high-performance vehicles. Its MQB lightweight modular platform and powerful plug-in hybrid drive make it a true industry leader.
Volkswagen's Golf GTE features a 1.4 TSI petrol engine and a powerful electric motor, together producing a maximum power output of 204 hp and an incredible 350 nm of torque.
In GTE mode, the Golf GTE accelerates from zero to 100 km/h in only 7.6 seconds and can reach a maximum speed of up to 202 km/h. In E-MoDE, the GTE can run on 100 percent electric for up to 50 kilometers and has a top speed of 130 km/h.
With ultra-low carbon dioxide emissions of 38 grams per kilometer and strong acceleration, the all new Golf GTE brings together high performance and low fuel consumption. Not surprisingly, it has quickly become one of Europe's most sought-after green sports cars.
The Golf GTE is also equipped with Car-net as well as second-generation MIB display, a 6.5-inch capacitive touch screen with multi-touch features, including two-finger resizing and slipping control.