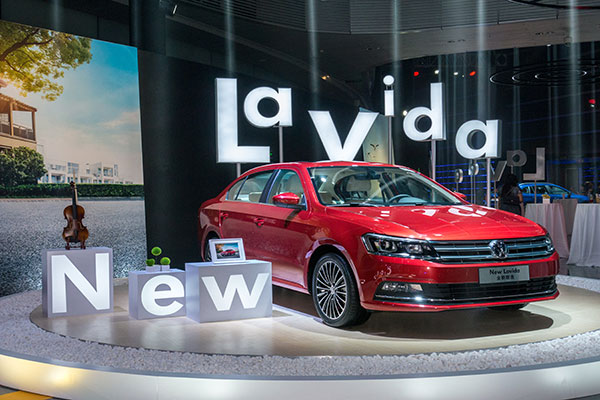 VW LAVIDA/CHINA DAILY 
Shanghai Volkswagen launched the new Lavida and Gran Lavida in the compact car market on July 20 with 19 variants and unveiled the new Cross Lavida in Guangzhou.
With the new models, the carmaker brings customers the EA211 engine series. Although new to the Lavida family, the four-cylinder engines are also used in Volkswagen's seventh generation Golf.
The new Lavida family offers three all-aluminum alloy engines: the 1.6-liter natural aspiration or turbocharged 230TSI for the new Lavida and new Gran Lavida; and the new Lavida BlueMotion is powered by a 1.2-liter TSI engine. The transmissions have three alternatives: manual, 6-speed automatic and a 7-speed Direct Shift Gearbox.
The cars' exteriors and interiors have been upgraded with new color choices.
The newly added tech configuration includes a Clean Air PM2.5 filter and MirrorLink mobile phone connectivity function.
The six-dimension adjustable seats, air conditioning in the glovebox and eight front and rear sensors offers the driver and passengers more convenience.
LED daytime running lights, automatic lights, tire pressure monitoring, electronic stability program, multi-collision brake system and other equipment and technologies help improve safety performance.
The new Lavida BlueMotion's TSI and DSG powertrain lowers its fuel consumption to 5.1 liters per 100 km. The 1.2-liter TSI engine is small in size but has 81 kW top output and peak torque of 200 Nm, close to the performance of a 1.6-liter natural aspiration engine, according to the company.
In total, 233,000 cars in the Lavida family were sold in the first half of this year. The carmaker expects to consolidate its leading position with the new Lavida models.
New Cross Lavida, and new Lavida Sport are set to launch by the end of the year.