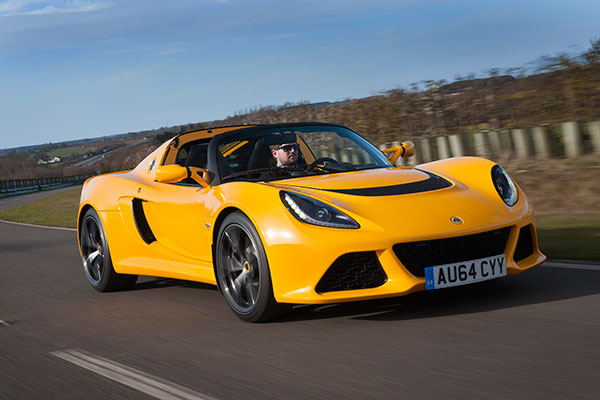 Lotus Exige S AT/CHINA DAILY
Lotus Exige S AT
British sports and racing car manufacturer, Lotus Cars, added the Exige S AT to its "track monster" series in Beijing on Thursday. The latest automatic model is now available in both roadster and coupe versions.
The 1,182-kilogram Lotus Exige S AT accelerates from zero to 100 km/h in 3.9 seconds, 0.1 seconds faster than the earlier manual version. The model's carbon dioxide emissions have been lowered to 222 grams/km from 240. Its paddles shift gears in 0.24 seconds.
Thanks to the car's lightweight body, the 350-horsepower rear-mounted engine consumes on average only 9.6-liters of fuel for every 100 km.
Lotus China CEO Chen Fei said, "The Exige S AT model demonstrates equally outstanding performance as its manual mode counterpart. In an Exige S AT, our customers will enjoy a simpler, more pleasant and more exciting driving experience."
The new model operates an ejection start function through its Dynamic Performance Management system, which assists in standard or sport mode. The sports car's unique electronic stability control system can be switched off to disable all assistance. An optional race pack allows drivers to safely explore the car's limits further.
The new model's chassis, weighing 65 kg, is built with extruded aluminum chassis-tub and has a torsional rigidity up to 11,000 Nm/degree. The chassis' solid handling base enables the car to maintain racing-evel performance.
The carmaker said it continuously tries to meet its customers' growing demands and further improve their driving experience. The Lotus Exige S AT fully embodies Lotus' design principle of a balance between light weight and strong power, achieving a dazzling unity of elegance and simplicity.
The Exige S AT features a taut and poised exterior, putting an emphasis on its racing car traits. Its advanced aerodynamics components include a front spoiler, rear diffuser and rear wing. It also boasts composite body panel, and Lotus' unique fully independent double wishbone suspension system.