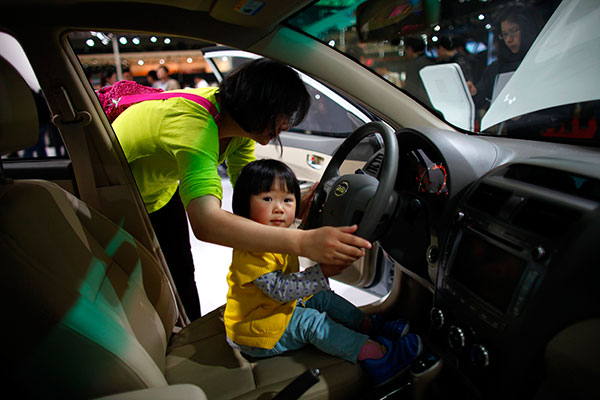 A girl sits inside a BYD Co car during an international automobile show in Shanghai. BYD has made inroads in the African auto markets through setting up plants and exporting vehicles.[Photo/Agencies]
Warren Buffett-backed Chinese carmaker BYD Co Ltd said on Wednesday that it has inked a deal to supply 10,000 vehicles, including new-energy cars and gasoline-powered vehicles, to Sudan.
Under the deal, BYD's largest in Africa, it will first ship power systems and key components to Sudan and then assemble cars there at a later date, a person working for the company's overseas department said on condition of anonymity.
"We hope to deliver all the vehicles within this year itself, but that will depend on market response and volume," the source told China Daily, declining to give more details on the contract amount.
Huang Zhixue, general manager of BYD's Middle East and Africa Auto Sales Division, said this was the first time that the company had bagged such a substantial order in Africa and expects that its products can make a tangible difference.
The privately held carmaker has set up two assembly plants in Africa in Egypt and Sudan for gasoline-powered cars.
Though several global carmakers have slashed their sales targets and suffered heavy profit loss, BYD's revenue rose 21 percent to 30.4 billion yuan ($4.75 billion) during the first six months of the year, thanks to its new-energy car sales, its mid-term financial report said.
The Shenzhen-based company raked in 4.6 billion yuan of gross profit, up 21.4 percent year-on-year, from January to June. During the same period, its car sales jumped 14 percent to 210,000 units, the report said.
BYD also provided solar modules to the Kalkbult project, one of South Africa's largest photovoltaic plants in the Northern Cape region, which was connected to the grid in 2013.
The agreement was signed in Beijing with Sudan state-run company GIAD Motor Co Ltd, the only company that has the automotive production qualification in the country.
Contact the writers at lvchang@chinadaily.com.cn and chenhong@chinadaily.com.cn