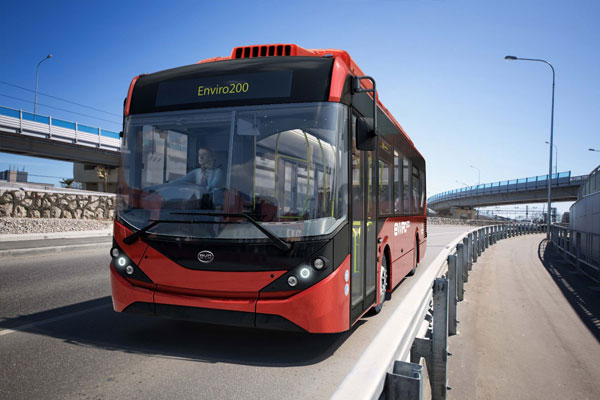 Single decker bus for London by BYD and ADL [Photo provided to China Daily]
Chinese automotive company BYD signed a 19 million pound ($30 million) deal on Wednesday to provide London with its first large-scale, zero-emission, single deck bus fleet.
The deal was signed between BYD and the UK bus and coach builder Alexander Dennis Limited, and together the two companies will build 51 emission-free, pure electric buses, all of which will be built on BYD chassis and powered by BYD's technology-leading electric drivetrain.
The buses will be bodied by ADL, incorporating their market-leading Enviro200 midi bus design. The Enviro200 is the world's best-selling midi bus and renowned for its lightweight, easy access, maneuverability and fuel efficiency.
The 51 buses would run on two routes operated by Go-Ahead London, and will come into service by August 27, 2016. They will run on London routes 507 and 521, which link Waterloo station to Victoria and London Bridge stations respectively.
The move follows an announcement from Transport for London, the city's government department in charge of transport, that it would electrify central London routes 507 and 521 as part of its drive to make all of its single deck buses emission-free by 2020.
The new deal includes a full on-site repair and maintenance program for the term of the contract and combines the strengths of ADL's Enviro200 12metre single decker and BYD's use of Iron-Phosphate Battery technology and drivetrain system. The latter has been proven to deliver outstanding range and reliability in multiple international markets, covering millions of kilometers of passenger service. Isbrand Ho, Managing Director of BYD Europe, said the cooperation with ADL can provide an optimized blend of expertise.
"Our deep experience of not only battery technology but the critical battery management systems and driveline components necessary to deliver unequalled range and reliability are matched to ADL's strong track record in building low weight, attractive and durable buses," Ho said.
Earlier this year BYD also announced that it has designed and built the world's first pure electric zero-emission double-decker bus, which will enter service in London in October. The first batch of BYD double - decker buses will consist of five vehicles, all manufactured in China. Ho says BYD will explore the possibility of local manufacturing of double decker buses if the quantity supplied increases.
Contact the reporter at cecily.liu@mail.chinadailyuk.com