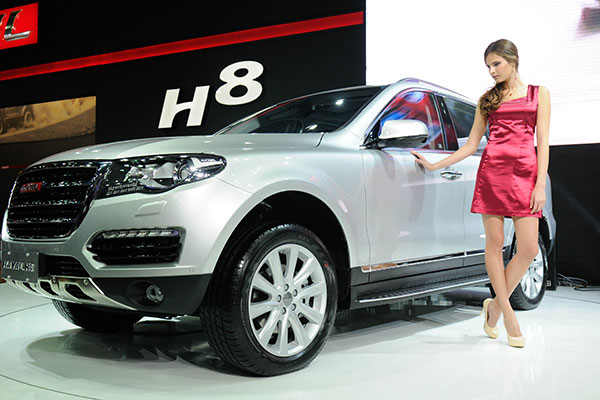 A Great Wall H8 at an auto show in Moscow. The company's sales have tumbled in the country due to the rouble's depreciation. [Photo/China Daily] 
Carmakers urged to rethink overseas business strategies
China's auto exports fell in the first six months of 2015 and experts say there is much work to be done before the situation will change for the better.
Statistics from the China Association of Automobile Manufacturers show that vehicles shipped to overseas markets stood at 381,500 units from January to June, a 13.5 percent fall from the same period last year.
Shen Danyang, spokesman for China's Ministry of Commerce, said the major culprits are worsening economic and political situations in destination countries, most of which are developing markets.
He said those countries' sluggish economic performance and currency depreciation are dampening customers' enthusiasm for consumption of necessities like cars.
The rouble's exchange rate in Russia fell by 11 percent from the second half of 2014 and sales of several Chinese car companies suffered, including Chery and Great Wall.
Meanwhile, depreciation of Japanese and South Korean currencies are making products from auto companies from these two countries more attractive to customers, said Shen.
He said political stability and trade barriers are affecting China's car exports. Statistics show that the number of Chinese cars sold in Iraq slumped 76 percent from the same period in 2014.
China's car sales plunged in Nigeria and Ecuador after they started limiting imports and raised tariffs, said Shen.
Zhou Zitao, a corporate risk management expert at consulting firm Deloitte, said China's auto exports might continue to dip in the short term if those conditions do not change.
However, Zhou said he expects a brighter forecast in the coming decade for China's auto exports, saying that Chinese cars will become more competitive as the country has released its Made in China 2025 plan that encourages innovation and creativity.
The plan, as well as the Belt and Road Initiative, will help improve car manufacturing and sales, said Zhou.
The initiative refers to the Silk Road Economic Belt and the 21st Century Maritime Silk Road, proposed in 2013 by President Xi Jinping with the goal of reviving ancient trade routes between Asia and Europe. The network passes through more than 60 countries and regions, with a total population of 4.4 billion.