Infiniti is premiering three heavyweight models at the Shanghai auto show, including two concept cars - Q80 Inspiration and Q60 Concept, and a design study Q70L Bespoke Edition, which many believe is a sign of the brand's strong design capability and its growing commitment to the Chinese market.
"Design is a major driver of Infiniti vision, and clarity of form is a hallmark of Infiniti vehicles," said Infiniti President Roland Krueger.
"Our designers have created a truly identifiable look, and a brand identity that is consistent across all of our products."
The Q80 Inspiration was designed to shake up the status quo among large premium sedans with its convention-defying body styling and daring proportions.
At five meters long and two meters wide, the four-door concept is only 1.3 m at its highest point, further underlining its fastback contours.
The Q60 is the precursor to a premium sports coupe with a strong intent for production. Sporting an angular exterior that underlines the roaring power under the hood, the two-door coupe offers captivating exhilaration in both looks and drive to a new generation of premium customers.
"The Q80 Inspiration and Q60 Concept are a showcase of Infiniti's precise craftsmanship and passion for detail," said Alfonso Albaisa, Infiniti executive design director.
The Q70L Bespoke Edition is designed based on the new Q70L which will hit the Chinese market soon.
The model has been dressed up with a handcrafted bespoke interior with many cues from the Q80 Inspiration and Q60 Concept for the auto show, hinting at how the artistry of Infiniti's concept cars can become reality.
"This special vehicle bridges the gap between the worlds of concept cars and production models. It demonstrates how the interiors of our visionary concepts could one day find their way into production," said Krueger.
Featuring four luxurious bucket seats wrapped in rich white quilted leather, the Q70L Bespoke Edition has a strong bodyline that rises from the grille, flows through the body's side like a wave and blends into the shape of the new rear LED combination lights, forming a compelling profile that highlights the sedan's sporty stance.
The new Q70L production model is expected to be a major rival to the Audi A6L, BMW 5 series and Mercedes-Benz E class.
"It is a car of charisma, generosity and care," said Daniel Kirchert, president of Dongfeng Infiniti, referring to Q70's design, class-leading space and upgraded Safety Shield system.
"The car is for those elites who are daring in their innovation, but in the meantime demand every refinement in life."
Stunning performance
Infiniti is one of the fastest-growing premium brands in China. Statistics show that its sales reported a 28 percent increase year-on-year during the first quarter. Sales in March alone hit 3,400 units, setting a new record for Infiniti at a 53 percent increase and leading the segment's growth by quite a large margin.
Analysts said that the brand's stunning performance shows that Chinese consumers, especially young-minded ones, now have a better understanding of the brand and its products, as it is fast promoting its localization strategy.
Infiniti said it was probably the fastest to localize production in the industry, with the first China-made model Q50L unveiled in November 2014, two months after the joint venture Dongfeng Infiniti was established.
Its second one - the QX50 - hit the market in March 2015 to compete with the Audi Q5, BMW X3 and Mercedes-Benz GLK.
The Q50L and QX50, or the 50 family as Infiniti fans call them, have proved to be a strong driving force of Infiniti's development, said Lei Xin, the joint venture's executive vice-president.
Combined sales of the two models hit 4,714 units in the first quarter of 2015, accounting for nearly 60 percent of its total sales in the period.
Brand building
Though achieving fast growth, Infiniti stresses its focus is on the long-term healthy development in China. Building a strong brand is one key component of Infiniti's localization strategy.
"We intend to capitalize on our unique aesthetics, by positioning Infiniti, here in China, as the most emotional premium automotive brand," Kirchert said.
This year Infiniti plans to upgrade its Gan Ai, or dare to love, campaign initiated in 2014 to cover all stages of marketing, sales and service.
In Chinese Gan means a challenging and daring spirit, going against traditions and doing something extraordinary, while Ai represents love, passion and true feelings from the heart.
Infiniti will soon start an Infiniti Festival tour in key cities and will continue its collaboration with Shenzhen TV to produce the reality show The Amazing Race. Its sponsorship of reality shows has helped boost brand recognition. The TV series Dad Where Are We Going? lifted Infiniti out of obscurity.
Infiniti said its non-aided brand awareness in the past 15 months surged 20 percent and the reality show contributed to it.
In the current "new normal", Infiniti also plans to add 25 to 30 new dealers to its existing network of 85 this year, as it believes its relationship with business partners and dealers is crucial to the campaign.
"The trust you develop through business partnerships carries a long way. Successful partnerships and successful businesses make sure that the customer is at the center of our attention," Krueger said in an earlier interview with China Daily.
In terms of service, Infiniti said it remains the only premium brand in China to promise free service and maintenance for four years, or 100,000 km on all car models.
The automaker said it would encourage its consumers, dealers and business partners to offer a helping hand through its Gan Ai Planet program, which helps those in need. Infiniti charity efforts focus on helping children with autism. It also supports a new initiative this year to improve pre-school educations for children in remote poor areas.
lifusheng@chinadaily.com.cn

 Infiniti Q60 Concept

Q80 Inspiration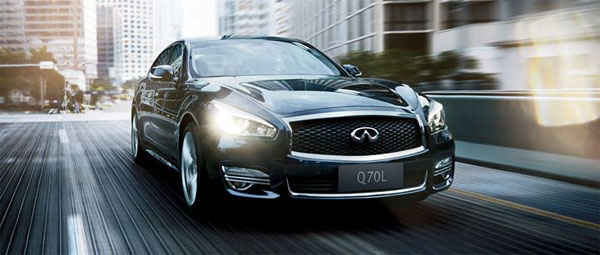 New Q70L
(China Daily 04/20/2015 page16)