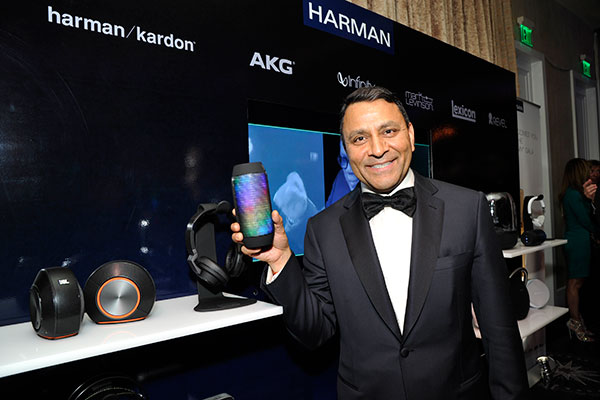 Paliwal showing reddot award winning JBL Pulse. [Photo provided to chinadaily.com.cn]
If you still define Harman as a specialist only in consumer or professional audio products, it is high time to refresh your mind because they have done more than you can imagine.
Automotive is the sector which now Harman excels at and wishes to further explore. During the 16th Shanghai International Automobile Industry Exhibition which folded in late April, Harman introduced a number of their latest technologies, including the Individual Sound Zone system which has its global appeal but suits the most to the Chinese luxury car buyers. With this system, people sitting in different places of the car can choose the information they want to listen to without disturbing one another.
But Individual Sound Zone system is just one of the examples of their reach into the automotive sector. Connected car is the area where the company has made huge efforts recently, for they are "betting on Internet of Things" of which connected car is an important component, according to Dinesh C. Paliwal, chairman and chief executive officer of Harman International.
In late January, Harman announced its latest CarLife system which is co-developed by China's leading Internet company Baidu Inc. It can support both Android and iOS operating systems, covering more than 95 percent of the smartphone users. CarLife can provide users services including route planning, estimation of distance, updating real-time map information, avoiding congestion, searching for real-time parking information, recording parking position, handsfree man-machine conversation system, and etc.
"The connected car product CarLife is the first of its kind in China which can work the most efficiently on various platforms. It is one of the most highly compatible connected car standards in the world. The strategic cooperation with Harman will help Baidu to come up more innovated connected car technologies by using our abundant Internet resources," said Liu Jun, vice-president of Baidu.
As Paliwal explained, Harman now specializes in three areas: Internet of car, Internet of home, Internet of enterprise. All Harman's products are connected now. One can listen to his home music here or even listen to his friend's music when he is in the office. In terms of Internet of enterprise, Harman is now connecting banks, retails, hospitals and etc.
At present, the infotainment business and branded high-end car audio systems contribute 50 percent and 15 percent to the company's total global sales, respectively.
As connected car is emerging, there comes the need to analyze the data. Therefore, they have thus bought a company based in California for $780 million in March. The company specializes in cloud, analytics and mobility — three things which Harman really wants to lead worldwide.