US electric carmaker Tesla Motors is calling for more patience with its performance in the world's largest auto market.
"In a lot of ways, I think we have been a little bit too impatient in the Chinese market," said Tesla's vice-president of global communications Ricardo Reyes before the Shanghai auto show.
"When I say us, I mean everybody. I mean Tesla, I mean the public, and I mean the Chinese press."
Tesla's boss, Elon Musk, predicted China sales could hit or exceed 5,000 by its first Christmas in the country after Tesla delivered its first eight sedans to local customers in April 2014. Eight is considered a lucky number in Chinese culture.
However, he was gravely mistaken. The entrepreneur, who also founded Space X, told the media in January that China sales were weak, which led the company's stock price to fall.
"If anything, this year should have taught us some patience, and that success isn't granted to you just because you are successful elsewhere," said Reyes.
He said it took many years to educate people in the United States on the benefits of electric vehicles before their popularity grew, and for a long time a lot of people saw the company as "a small child trying to play with grown-ups".
He said Tesla needed to go through the education process in China as it did in other markets as "we were and continue to be, especially in the Chinese market, a new car company with new technology".
He added that the company's biggest challenge in China was "dispelling misconceptions about who we are and what we do".
"Three or four months ago, I was still answering questions like, 'If I drive the Model S into a river, will I get electrocuted?' And that was from serious, established reporters," he said.
That was part of the reason Tesla made an appearance at the Shanghai auto show, the first top-class auto event it has attended in China since its arrival in the local market in early 2014.
What reassures Tesla is that new-energy vehicles are gaining momentum in China.
Sales of these reached about 26,581 units in the first quarter, nearly three times the figure in the same period last year, according to the China Association of Automobile Manufacturers.
Among the offerings on display in Shanghai is a plug-in hybrid version of General Motors' Cadillac CT6 sedan.
Volkswagen said it plans to produce more than 15 new energy vehicles in China by 2020.
"The commitment we see here is unparalleled," said Reyes.
"There is by far the most space dedicated to electric vehicles (here than at any other show), and they are mostly domestic carmakers. In Detroit, we were practically the only ones there."
"We hope the big manufacturers will see the opportunity and start building their own electric vehicles," he added.
Speaking of the company's prospects in China, Reyes said he is convinced that Tesla will succeed in China although his measure of success is not by numbers, at least in the short run.
"I will call it a success if the majority of the public starts to understand not just Tesla as a brand but more importantly that electric cars are the way of the future and present better solutions than internal combustion ones," Reyes said.
He said if that mentality gains momentum in China, both Tesla and other electric carmakers would succeed.
"If we make the right steps, China will become one of our biggest, if not the biggest, market," Reyes added.
At a forum in Hainan province in late March, Musk said Tesla would start local production in China within three years.
Reyes denied speculation that his talk was a tactic to woo Chinese customers but he said it is far too early to offer details about who the company would partner with in the country or even the company's standards for choosing partners.
Tesla was founded in 2003 by a group of engineers as a Silicon Valley start-up with a mission to promote sustainable transport.
The company takes its name from Nikola Tesla, the Serbian-American inventor, who at the end of the 19th century patented the AC induction motor around which the brand's powertrains are based.
Tesla released its Roadster in 2008 and Model S in 2012.
The automaker plans to unveil a smaller and cheaper Model 3 in 2017 that could rival the BMW 3 Series with a retail price of about $35,000 in the US, less than half the price of the Model S.
Contact the writers at lifusheng@chinadaily.com.cn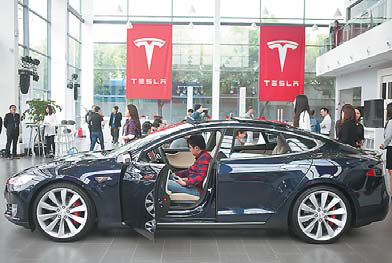 Tesla's third store in Shanghai opens on April 16, attracting many fans to examine its models amid its sluggish sales in China. Gao Erqiang / China Daily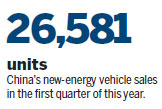 (China Daily 04/27/2015 page17)