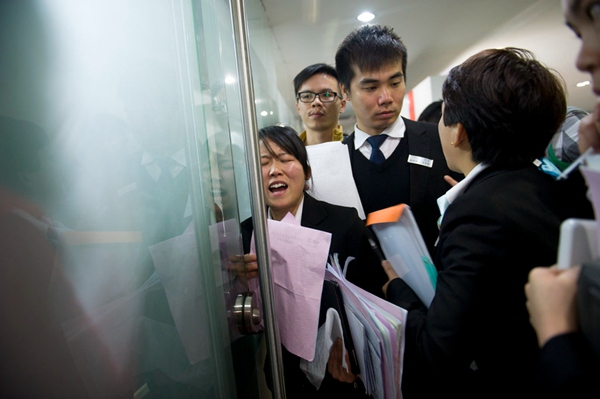 This photo taken at 7:37 pm on Dec 29, 2014 shows dealers trying to get keys for new cars just sold at the door of an office at a car dealership in Shenzhen. [Photo/CFP]
BEIJING - The abrupt car purchasing restriction announced in Shenzhen on Monday left many residents startled in the southern metropolis.
Late in the afternoon, Shenzhen authorities suddenly and unexpectedly announced a restriction requiring prospective cars buyers to acquire license plates by lottery or auction.
The news resulted in several people attempting to panic buy cars that evening, but many failed to do so as traffic police and law enforcement preempted the panic buy and forcefully closed auto stores, witnesses said.
Shenzhen, the country's most congested metropolitan bordering Hong Kong, is the eighth Chinese city to adopt purchase restrictions following Beijing, Shanghai, Guangzhou, Tianjin, Guiyang, Shijiazhuang and Hangzhou to tackle rising congestion and pollution.
Chinese people are no strangers to car buying restrictions and traffic controls. During the 2008 Olympics, Beijing introduced a daily ban on half of the city's cars, determining who could drive on what day based on the license plates ending in odd or even numbers. The capital later relaxed the rule by keeping cars off the road one out of five weekdays and restricted car purchases.
Other major cities including Chengdu followed suit. Jinan said it would impose "temporary" bans depending on PM 2.5 density.
However, it should be noted that under such bans, property rights have been infringed upon, as cars in the capital cannot be used four days a month, which prompts more car purchases and could further damage the environment.
Such measures are controversial, but facing the capital's overloaded roads and choking smog, authorities are still reconsidering the rule allowing cars to drive on alternating days based on license plate numbers.
The purpose of the country's legislative body is to rationally approach a topic with consideration to various parties' interests. Balance should be sought between people's rights to vehicles and their demands for clean air and free traffic flow.
Traffic bans should proceed through legal channels, as was stressed by the Communist Party of China Central Committee, which says the government must run under the rule of law; powers should execute within the law; any official move should be endorsed by law.