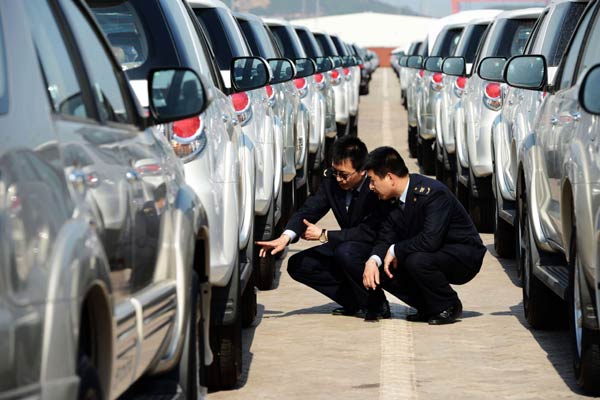 Customs officials inspect imported cars at Huangdao Port, Shandong province. Foreign automakers in China may struggle to set sales targets in the future. YU FANGPING/FOR CHINA DAILY
Foreign automakers in China may struggle to dictate sales targets in the future after dealers complained to the government that inflexible targets set during a market boom obliged them to buy too much stock and bear the brunt of a drop in demand.
Automakers largely stuck to targets throughout 2014, selling cars to dealers on schedule. But dealers slashed retail prices and booked losses as sales growth in the world's biggest auto market halved from the previous year's 14 percent.
"Carmakers have high market expectations. But the reality is: supply exceeds demand," said Luo Lei, deputy secretary-general of the China Automobile Dealers Association.
"In the past, dealers were angry, but dared not speak out. But now, they have to shout because the situation is getting so unbearable," said Luo, whose body this month filed a report with authorities on the practice of transferring stock to dealers.
The report from China's biggest dealer body could help change the balance of power at a time when automakers are starting to alter expectations in an economy growing near its slowest rate in 24 years.
Japan's Honda Motor Co Ltd and Nissan Motor Co Ltd cut their China sales forecasts last month while executives say Toyota Motor Corp is likely to miss its 2014 goal. Germany's BMW said it expects profit margins to narrow as the market "normalizes" from the growth spurt of the past few years.
Yale Zhang, managing director of consultancy Automotive Foresight, said: "Carmakers are making a compromise with dealers in their worst-ever spat. In the past years, carmakers, especially luxury brands, have been too aggressive in their quest for China market share. Now with the problem fully exposed, I expect to see an obvious slowdown in their pace of expansion next year."
Honda has been helping dealers "adjust" inventories since the middle of the year, a company spokesman said. Honda's China sales have fallen every month since July.
BMW China head Karsten Engel said last month that the luxury carmaker had "listened" to dealers saying stockpiles were building up, and that it had started "reducing wholesale supplies".
The reduction contributed to BMW's sales growth slowing to 8 percent in the third quarter from over 20 percent in the first half.
BMW said it is in continuous dialogue with dealers about all aspects of business growth including targets, and that it is in its interest for dealers to be profitable.
In its report to the government, CADA said automakers have "excessive power" as their targets essentially obligate dealers to buy their cars. That means automakers still earn a profit whereas dealers suffer "rampant losses" because of an inability to sell excess stock to consumers.
In separate reports, CADA said 30 percent of dealers profited this year compared with 70 percent in 2010, and that inventories were equivalent to 1.8 times monthly sales, above the 1.5 "alert line".
A stockpile of 0.8 times to 1.2 times is generally considered healthy, industry analysts say. The Jiangsu Automobile Trade Management Association this month said 30 out of 34 FAW Toyota dealerships in the eastern province were losing money, partly because they were obliged to buy a set number of cars from FAW Toyota or face penalty fees.
Toyota venture FAW Toyota Motor Sales Co said in a statement posted on the Jiangsu association's website that it had lowered sales targets and slowed the pace of network expansion in eastern China to protect dealers' profitability.
Chen Ning, deputy secretary-general of the Jiangsu association, said: "For a long period of time, manufacturers have been in a dominant position. We have not yet seen any improvements in dealers' situation."