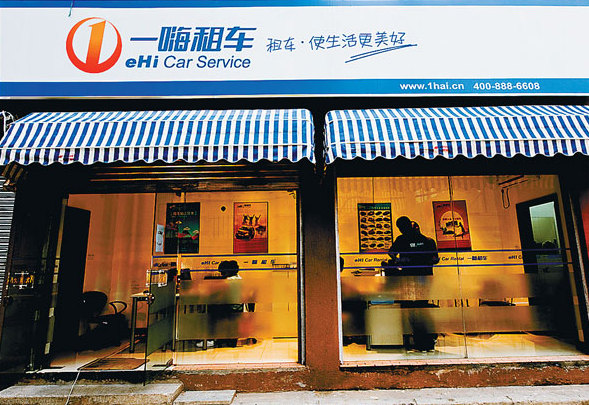 An eHi Car Service outlet in Shanghai. Customers in Shanghai are able to rent an e-car, with eHi planning to equip recharging stations at its stores scattered across the city. [Photo/Provided to China Daily]
SHANGHAI - Chinese car rental company eHi Car Services, which operates in more than 90 cities with a 15,000 plus fleet, filed on Saturday with the US Securities and Exchange Commission to raise up to $200 million in an initial public offering (IPO).
eHi, which is expected to be listed on the New York Stock Exchange, the second listed Chinese car rental chain after CAR Inc that was listed in Hong Kong on Sept 19.
eHi has been successfully in several private rounds of funding from investors such as Qiming Ventures, CDH Fund, Goldman Sachs and Enterprise Holdings, the largest car rental company in the world. In December 2013, eHi received a $100 million investment from Ctrip, China's largest online travel agency.
According to the IPO filing, eHi has been consistently improved its financial performance over the past three years. Its net revenue in the first half of this year increased by nearly 50 percent to 385 million yuan ($63 million) compared with the same period of last year.
As the first car rental company in China with an e-commerce business model, eHi uses mainly online and mobile booking. By end of June, over 30 percent of eHi's customers booked via mobile devices, while 55 percent of eHi's customers book online.
Research results from iResearch, a leading market research consulting company, shows that the market size of China's online car rental industry reached 3.42 billion yuan in 2013, up 70 percent year on year.