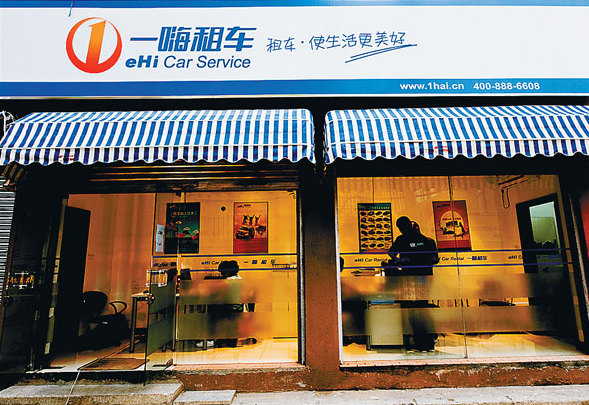 An eHi Car Service outlet in Shanghai. Customers in Shanghai are able to rent an e-car, with eHi planning to equip recharging stations at its stores scattered across the city. [Photo/Provided to China Daily] 
BEIJING
- China's car rental sector is set to boom with potential for rapid development, according to a recent survey conducted by a Chinese consulting firm.
Zero Power Intelligence predicted that market needs for rental cars in China would flourish over the next five years, spurred by stricter rules on official car use and the growing popularity of driving licenses.
China Economic Weekly quoted Xiao Jian, a researcher with the consulting company, as saying that the demand for rental cars last year totaled 250,000 rentals and the market size reached 22 billion yuan ($3.6 billion), a tenfold increase from 2006.
According to the survey, the sector's growth was mainly attributed to China's urbanization, which has led to necessary infrastructure and surging car ownership levels to nurture a large base of prospective customers.
The country's homegrown carmakers, including Huachen Auto Group and Dongfeng Motor Corporation, as well as international giants like Mercedes-Benz, have started their own car rental services in big cities.
With abundant capital, self-owned technology and after-sales services, Chinese carmakers have leverage when competing with companies focused exclusively on car rentals.
The survey also showed the metropolises of Beijing, Shanghai, Guangzhou and Shenzhen still appear to be major car rental markets, taking 59 percent of the national market.
Xiao forecast the sector to maintain the growth impetus, projecting an annual growth rate of 20 percent to 25 percent and the market size to hit 50 billion yuan by the end of 2018.
The sector's market penetration rate in China dawdled at 0.4 percent in 2010, lagging behind that of Japan, the US and Canada, which have 2.2 percent, 1.3 percent and 0.8 percent respectively, according to data from Roland Berger Strategy Consultants.
Daimler 'smart' plan to help ease urban traffic congestion
VW joins rental fray with corporate leasing
Investors keen on top rental firms
Ctrip leads over $100m investment in eHi Auto Services
Car rental boss switches on to e-vehicles