Car rental boss switches on to e-vehicles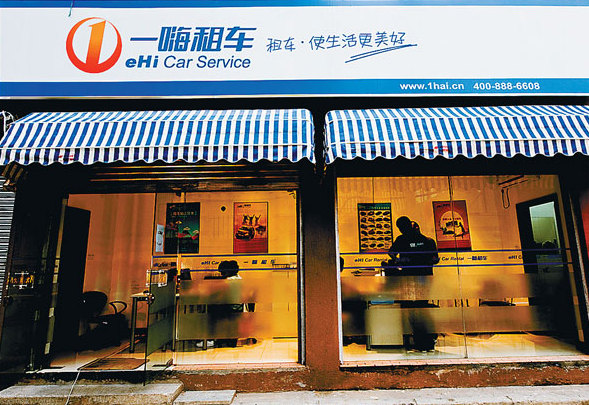 An eHi Car Service outlet in Shanghai. Customers in Shanghai are able to rent an e-car for about 150 yuan a day, with eHi planning to equip recharging stations at its stores scattered across the city. [Photo/Provided to China Daily]
Ray Zhang aims to be the first in China to introduce electric vehicles to a rental fleet
With local governments in most major Chinese cities fighting a losing battle against worsening air pollution, Ray Zhang in Shanghai has an idea.
It may not be exactly new, but he is putting into practice the idea of car pooling and the wider use of electric vehicle through his car rental company, eHi Car Service, which he founded in 2006. The Shanghai-based company now has 170 rental points in more than 60 cities nationwide.
Zhang aims to be the first in the country to introduce electric vehicles to a rental fleet of 10,000 cars. From this month, eHi will add 200 electric cars to its Shanghai fleet.
It's arguably a business decision.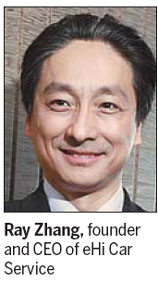 Electric cars aren't exactly the favorite choice of rental customers, most of whom are concerned about their limited range. A typical electric car also costs 20 to 30 percent more than a car running on conventional fuel.
Zhang said he made the decision because he wants to contribute to the well-being of the environment, which has been subject to "terrible abuse".
"The number of automobiles in China has surpassed 100 million, and the cities have already become choked by too much traffic and pollution," said Zhang.
Having worked in the rental car business in the United States for 17 years before returning to his hometown to start out on his own, Zhang has always been viewed as being different to his peers. And as a type of maverick, he is quite critical of the way his competitors do business.
"The car rental market (in China) is immature, or even chaotic. Some players have no bottom line in competition. But I am still committed and optimistic about the future," he said.
Part of that future is to help fight air pollution, widely considered the biggest public health hazard in many cities.
Figures from the traffic management bureau under the Ministry of Public Security show that by June 2012, some 180 million people in China had driving licenses, although there were only 100 million registered cars, meaning nearly 80 million eligible drivers don't have their own vehicles.
Zhang said he believes car-sharing is a good way to spread mobility but curb pollution and help solve the problem of parking. According to eHi's calculations, a single car was used by more than 100 renters in 2012.
There are more than 2 million autos in the US car rental market, which is worth between $20 billion and $30 billion, Zhang said. The number of cars in the rental market in China is still small, given the country's population and area, but there is great potential for growth.
"I believe China's market will grow to a scale larger than that in the US, although it still takes time to get a mature market," Zhang said.