Car rental companies look for boost
Updated: 2011-12-31 09:12
By Wang Chao (China Daily)
| | | | | | | | | | | |
| --- | --- | --- | --- | --- | --- | --- | --- | --- | --- | --- |
|   | | Comments() | | Print | | Mail | | Large Medium  Small | 分享按钮 | 0 |
As Lunar New Year approaches, firms such as Avis are looking for a slice of the holiday traffic
BEIJING - Chinese New Year is less than a month away and the world's biggest human migration will soon descend on China's overburdened railways, highways and airways.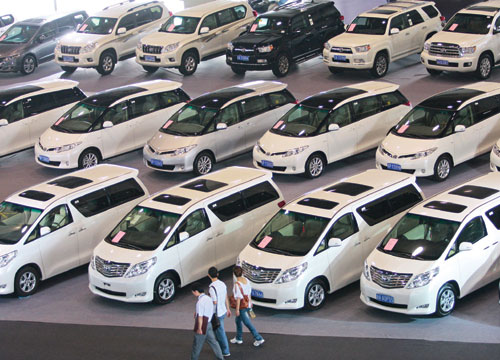 Vehicles on display at an international rental and leasing industry exposition in Nanjing, Jiangsu province. Business analysts and company officials said the car rental industry must focus more on individual customers. [Photo/ China Daily]
In 2011, domestic airlines and railways were the dominant modes of transportation for the approximately 2.85 billion trips made by Chinese travelers crossing the nation in the hope of seeing their loved ones in their hometowns. But recently in residential communities, subways and bus stops, passers-by have been bombarded by adverts offering strikingly cheap offers, often with slogans such as: "Drive home instead of being packed in a train".
However, these ads are not calling on Chinese people to drive their own cars but to rent one, with some of the deals on offer as low as 49 yuan ($7.7) a day.
Transport analysts and business experts agree that the car-rental industry will develop in China in the foreseeable future, Infused with new capital and high expectations, the car rental industry will take off rapidly, according to analysts.
Over the past three years, the world's largest auto market has seen the car rental industry grow by nearly 20 percent annually, according to the China Taxicab and Livery Association.
But these services were not available in China until the late 1990s, when taxi companies began renting cars for foreign tourists. The industry is still growing, said experts and investors, and though there has been a recent infusion of cash from investors, there are also many obstacles to overcome.
The market first began showing signs of growth in 2009, when car ownership became the norm as 13.76 million vehicles were sold in the Chinese market, and the country overtook the United States in production volume.
Soon, investors were knocking on the door. In August 2010, Goldman Sachs Group Inc pumped $70 million into eHi Car Rental Co Ltd, based in Shanghai.
A month later, Legend Holdings Ltd, a Chinese investment holdings company in IT, investment and real estate, spent 1.2 billion yuan ($187.5 million) to acquire a 50 percent stake in China Auto Rental Inc, based in Beijing.
Then in November 2010, Mitsubishi Corp invested $20 million for a joint-venture with Cheeyou Car Rental Co Ltd in Hangzhou in East China's Zhejiang province.
Rental companies, flooded with new cash, began buying more cars and setting up offices across China. Based on data from Roland Berger Strategy Consultants, there are around 10,000 car rental companies in China, with half of them located in first-tier cities, such as Beijing, Shanghai, Guangzhou and Shenzhen.
In July, the consultancy released an annual revenue forecast of $6 billion by 2015, with a total of 430,000 cars for rent. There are currently 50,000 cars for rent, according to the China Taxicab Livery Association. However, in the US there are 1.7 million, according to Auto Rental News, a US-based magazine that covers the car and truck rental industry.
And there are the surprising statistics from both Roland Berger and the association. Each rental car company on average only owns 20 cars, with the top five companies holding a combined market share of 11 percent.
In contrast, the top seven rental companies in the US have a market share of 95 percent.
For another comparison, note that the world's largest car rental company, Hertz Global Holdings Inc, owns a fleet of 500,000. The biggest fleet in China, owned by China Auto Rental, is 25,000.
Currently, the top Chinese companies are spread out across the country. Topone Car Rental Co Ltd based in Shenzhen, controls the market in the south, eHi has a hold in the east, while China Auto Rental says its network is countrywide.
Officials from each of these companies said they have added many offices since 2009. Even Hertz has increased its number of offices in China from two to five this year.
Avis Car Rental, which opened its first outlet in China in 2002, has grown to 105 service outlets in 35 cities with 6,000 cars in service.
Lu Zhengyao, chairman and CEO of China Auto Rental, said that in this industry, the most important thing is taking control of market share and the scale of the business."The profit margin is secondary for car rental companies for the time being. If you have only several thousand cars, you will never win in the future," he said.
Aside from investors, what has also helped the auto rental industry is the rising cost of using taxis, as the price has risen by 5 percent annually in recent years.
The increasing number of travelers in China has also provided a shot in the arm for the industry.
Every year 200 million to 300 million trips are made by plane. "All we need is 200,000 customers to keep us very profitable, which is just a small fraction of the full market potential," said Huang Zhibiao, marketing director of Topone.
Leo Cai, executive vice-president of eHi, said more State-owned entities are renting.
"Renting cars can cut (government agencies') costs by 30 percent, compared with maintaining these cars themselves," said Cai, adding that eHi has 10,000 government and State-owned company contracts.
But, like many budding industries in China, the problem is a lack of individual consumer spending.
Most Chinese rental companies are buoyed by long-term contracts - in some cases as long as three years - with corporations that need rental cars on a daily basis.
Experts and company officials say the industry must focus more on the individual market. "People need time to accept this new consumption model," said John Shen, a partner at Roland Berger.
Despite the rise in popularity, profits have not been high for the top Chinese rental companies, Shen said. EHi, China Auto Rental and Topone all said that they will be in the black in at least two to three years if the number of customers keeps growing, but at present now they are dependent on funds from venture capital.
Fraud and theft are two more headaches for the rental companies. There are currently no laws governing fraud and damage to rental cars, so companies need to spend a great deal of time and money to retrieve cars when theft or fraud occurs.
Nonetheless, the outlook is bright for the industry, with rental companies hoping to secure contracts with Chinese airlines and offer exclusive rental services. Since 2007, Topone has led the way, signing deals with Air China Ltd, Southern Airlines Co Ltd and Hainan Airlines Co Ltd.