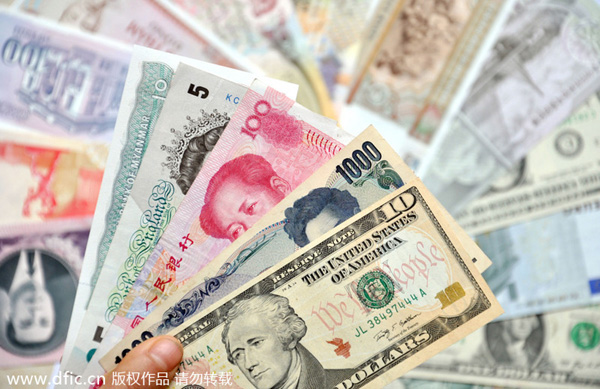 Photo taken on March 16, 2014, shows yuan (central) and other currencies in the picture. [Photo/IC]
WASHINGTON - The US Treasury Department said on Wednesday that China cannot be ruled as a currency manipulator, but highlighted the need for sustained progress toward a market-driven exchange rate.
"The gradual appreciation of the renminbi this summer and low apparent levels of intervention indicate some renewed willingness by the authorities to allow a stronger domestic currency and to reduce intervention in line with Strategic & Economic Dialogue commitments," the department said in its Semi-Annual Report to Congress on International Economic and Exchange Rate Policies.
"Even so, important metrics continue to indicate that the renminbi exchange rate remains significantly undervalued, highlighting the need for sustained progress toward a market-determined exchange rate," it said.
The report said the nominal effective exchange rate has appreciated 1.6 percent from the beginning of the year through end- September, but there are a number of continuing signs that the exchange rate adjustment process remains incomplete and the renminbi has to further appreciate before reaching its equilibrium.
"China should allow the market to play a greater role in determining the exchange rate," it said, which includes refraining from intervention within the band and adjusting the reference rate if market pressures push the exchange rate to the edge of the band.
It noted China's current account surplus in 2013 fell to below 2 percent of GDP, down significantly from its peak of 10.1 percent in 2007, driven by renminbi appreciation and very rapid growth of domestic investment.
The US Omnibus Trade and Competitiveness Act of 1988 requires the Treasury to provide reports on whether its major trading partners manipulate the rate of exchange between their currency and the United States dollar for purposes of preventing effective balance of payments adjustments or gaining unfair competitive advantage in international trade.
In previous such reports from the Obama administration, the US government did not label China as a "currency manipulator".