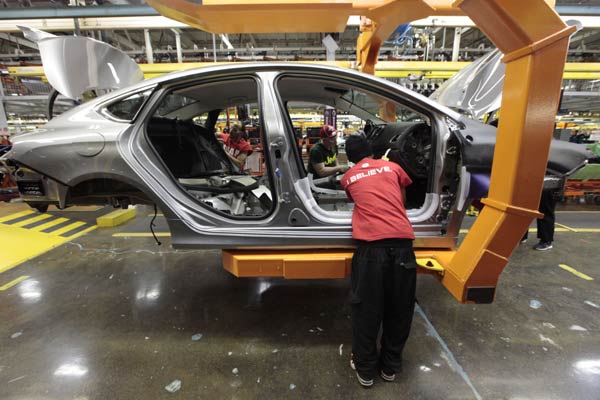 The Chrysler assembly line in Sterling Heights. A recent survey indicated that technological advances would transform business in the next five years. PAUL SANCYA/AP
The global automotive industry is facing a technology revolution for the next step of development, according to a PricewaterhouseCoopers survey.
The international consulting firm's 17th Annual Global CEO Survey showed that about 79 percent of 87 interviewed automotive CEOs in 34 countries believed that technological advances would transform business in the next five years.
It also revealed that 57 percent of those automotive CEOs currently have a strategy in place or a program underway or completed to implement a change around technology investments.
The survey was titled Fit for growth: The automotive industry - Where it's going and how it plans to get there.
"From the purchasing process and ownership experience to in-vehicle infotainment and fuel-efficiency expectations, technological advancements are radically changing the automotive industry," said Rick Hanna, PwC's global automotive leader.
"Technology is playing a growing role within company operations and future growth. Beyond the customer, automotive CEOs are betting on advancements in technology when managing their supply chains, driving innovation, developing integrated infrastructure models and attracting talent," he added.
Chinese homegrown automobile brands saw their combined market share in the passenger vehicle segment continue the downtrend for the eighth consecutive month, as their share dropped by 2.92 percentage points year on year in May.
Analysts attributed the market environment to the lack of competitive models and technologies. "Strengthening their technology capability is the right way for homegrown brands to catch up," said independent auto analyst Jia Xinguang.
To improve technology capability to an international level, Zhejiang Geely Holding Group established a research and development center in Gothenburg, Sweden, home of its acquired Volvo brand.
Supported by Volvo, the center will help Geely develop modular-architecture designs and sets of components for C-segment cars.
A talented workforce and culture of innovation should be put in place to bring these technological advancements to fruition, the consulting firm said in the survey report.
This was one key area where automotive CEOs were notably more worried this year. The survey suggested 63 percent were concerned about the availability of key skills, up from last year's 49 percent. The demand for top science, technology, engineering and mathematics talent is becoming increasing competitive.