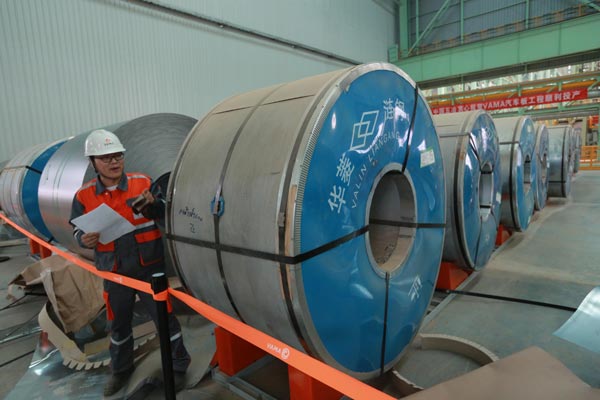 Finished steel ready for shipment from the joint venture plant in Loudi, Hunan province. Guo Guoquan / For China Daily
Valin ArcelorMittal Automotive Steel Co Ltd officially opened its first automotive steel plant in China on June 15, marking a new milestone in China's automotive industrial chain.
The company known as VAMA is a 51-49 joint venture between Valin Steel Co Ltd in Hunan and ArcelorMittal, the world's leading steel and mining company headquartered in Luxemburg.
Located in Loudi, Hunan province, VAMA was approved by the National Development and Reform Commission and the Ministry of Commerce. Total investment in the venture will reach 5.2 billion yuan ($832 million), said the company.
VAMA will produce high-strength auto steel to meet fast-growing demand in China. Its annual production capacity of around 1.5 million tons will include cold-rolled, galvanized and hot-dip galvanized coil steel.
"In recent years, between 1.5 million and 2 million tons of auto sheets were imported annually, and VAMA aims to target this market demand through import substitution," said Sanjay Sharma, CEO of VAMA.
"About 45 percent of Chinese vehicles use high-strength steels such as those VAMA will be producing at our factory in Loudi," Sharma said.
He said VAMA's high-strength steel products allow for thinner, stronger steel to be used in automotive manufacturing, reducing total weight by up to 19 percent and carbon emissions by 14 percent through the lifetime of the vehicle.