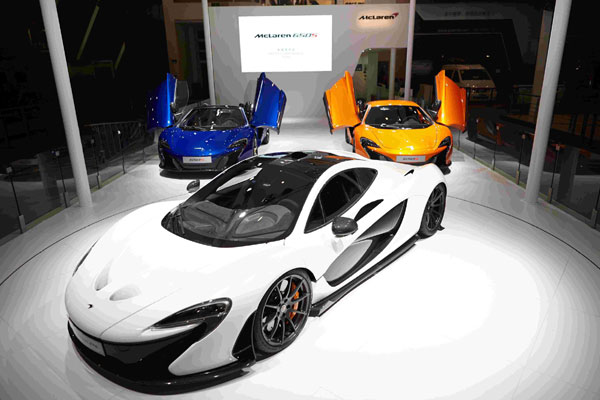 McLaren presented its P1, 650S Coupe and 650S Spider high-performance sports cars to Chinese consumers at the Beijing Auto Show in April. The company expected its 2014 China sales to account for 10 percent of global total. CHINA DAILY
Renowned for F1, now in super sports car market
A leader in racing for more than half a century, British high-performance sports car maker McLaren Automotive now hopes to reinvent its image in China.
At the recent Beijing Auto Show, CEO Mike Flewitt noted "it's McLaren's first time to bring our super sports cars to China at a local A-level international auto show".
"We hope our cars get closer to Chinese customers and our brand becomes known for super sports cars rather than motor racing."
Since it was founded in 1963 by Bruce McLaren, the name has been famous around the world for its eight Formula One constructor championships and 12 drivers' titles, a quarter of the total. It also holds many Indianapolis 500 and Le Mans 24 Hours titles.
The name also shines with a long list of legendary F1 racers from Alain Prost and Niki Lauda to Ayrton Senna, Mika Hakkinen, Kimi Raikkonen, Jenson Button and Lewis Hamilton.
"Now we are making efforts to let Chinese consumers know that McLaren is also producing super sports cars for street driving," said Flewitt.
Though it just officially arrived in China with a wholly owned operation in Shanghai last September, Flewitt has high expectations for the carmaker.
"We came when we were ready, not late, at the right time with the right people, right products and right dealers," Flewitt told China Daily.
"We hope to sell about 150 cars to Chinese owners this year, about 10 percent of our total global sales," he said. "I am quite confident about the China market."
In 2013, McLaren delivered about 1,400 super sports cars worldwide. Its goal is to sell 1,600 vehicles this year and 4,000 by 2017.
It has now distribution centers in Beijing, Shanghai, Guangzhou and Chengdu.