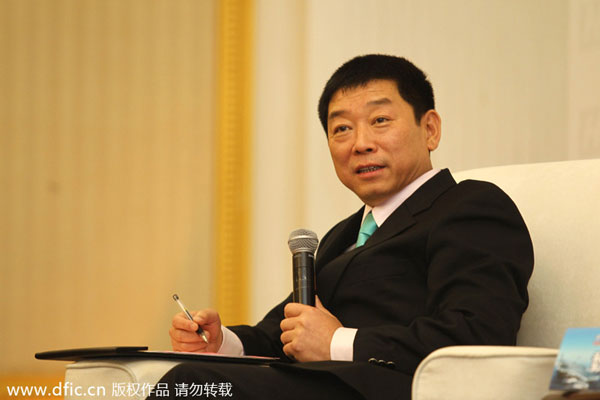 Wei Jianjun, chairman of Great Wall Motors Co Ltd, is interviewed in Beijing, March 29, 2013. [Photo/dfic.cn]
A quarter of top car-industry billionaires call China home, a list from Shanghai-based Hurun magazine that documents the life of the wealthy, showed.
This year's Richest People from the Car Industry list named 45 billionaires from 13 countries. Their average fortune was $3.75 billion. Among them, 11 are from China.
Wei Jianjun, 50, chairman of the Hebei-based Great Wall Motors Co Ltd, is the richest self-made car entrepreneur in China. He ranked fifth with $7.7 billion. His company is China's largest private car brand and the biggest domestic manufacturer of SUVs and pickups.
Great Wall's market capitalization is more than $16.7 billion and annual production capacity is 800,000 vehicles. Total sales revenue was 56.8 billion yuan ($9.19 billion) in 2013 and net profit 8.3 billion yuan.
"It is no longer a secret that Chinese billionaires are huge buyers of luxury cars," Rupert Hoogewerf, chairman and chief researcher of Hurun Report, said. "But still it is quite a surprise for us to find out that Chinese are not only major buyers but also major profit-makers."
Most of China's leading automobile companies are State-owned, making it difficult to calculate personal wealth, he said.
Lu Guanqiu, founder and chairman of Wanxiang Group Corp, and his family are second to Great Wall's Wei.
Wanxiang is China's largest car-parts maker with a market capitalization of $3 billion. It invested in the UK, US, and 11 other countries. The company bought Fisker Automobile for $25 million this year and purchased US lithium battery manufacturer A123 Systems LLC in 2013.