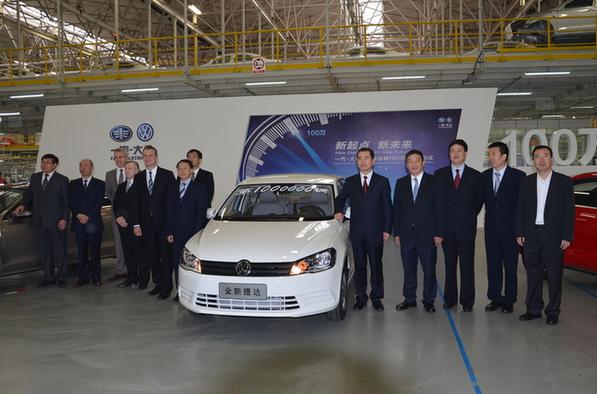 The output of finished vehicles in FAW-Volkswagen's Chengdu base, a joint venture between China FAW Group Co and Volkswagen AG, hit 1 million units earlier this month. The Sichuan capital is attracting more automakers to assemble vehicles in order to meet the growing demand in China's western market, especially for passenger cars and sport utility vehicles.

[Photo/chinadaily.com.cn]
Sichuan capital becomes basefor expansion, technical progress
With car sales rising in China's vast western region, Chengdu appears to have developed a new revenue source with which automobile makers can expand their factories and gain an edge over the fierce competition taking place in the country's eastern region.
Although many cities, including Shenyang in Liaoning province, Changchun in Jilin province, Wuhan in Hubei province and Shanghai, have staked a claim to be the new hub of China's automobile industry, the Sichuan capital is attracting more automakers to assemble vehicles in order to meet the growing demand in China's western market, especially for passenger cars and sport utility vehicles.
According to Shi Yuehua, director of Chengdu's economic and information technology committee, China's coastal market has long been a battlefield for carmakers from
Europe
, the United States, South Korea and Japan.
"Due to endless price wars, costly advertising and promotional campaigns, restrictions on vehicle purchases to tame heavy air pollution and the near saturation of car ownership in some eastern cities, the coast of China therefore is no longer as fast-growing a marketplace for international vehicle brands as it once was," Shi said.
Automakers' eyes have turned to Chengdu, where activity has been growing exponentially. The output of finished vehicles in FAW-Volkswagen's Chengdu base, a joint venture between China FAW Group Co and Volkswagen AG, hit 1 million units earlier this month.
Juergan Unser, vice-president and board member of FAW-Volkswagen, called the fact that the Chengdu factory has produced 1 million vehicles within three years "another China miracle".
The FAW-Volkswagen joint venture was established in Chengdu in 2009, in the Longquanyi district, 13 kilometers east of downtown. Its first car rolled off the assembly line in 2011. As the second base for FAW-Volkswagen after its headquarters in Changchun, the Chengdu base is now in full operation after a third phase was completed last year.
"The Chengdu base now is using its full capacity and aims to produce 600,000 vehicles this year," said Zhang Pijie, general manager of FAW-Volkswagen.
The Chengdu Economic and Technological Development Zone in Longquanyi district has become an important production base for FAW-Volkswagen, FAW Toyota, Volvo and Geely.