With several Asian and Chinese premieres, BMW is using this year's Beijing International Automotive Exhibition (Auto China) from 20 to 29 April 2014 to present an array of compelling production models which are geared to meeting present-day customer requirements and in some cases usher in all-new market segments.
BMW 2 Series Active Tourer: dynamics and functionality of space.
The new BMW 2 Series Active Tourer ushers in a whole new class of car, combining comfort and functionality of space with the hallmark BMW strengths of dynamism, style and elegance in the premium compact class.
The BMW 2 Series Active Tourer follows in the tyre tracks of the Coupe as the second member of the new BMW 2 Series line-up and impresses from every angle with its sporty presence and harmonious proportions.
New turbocharged engines with three and four cylinders, an extensive package of BMW EfficientDynamics technology and wide-reaching connectivity courtesy of BMW ConnectedDrive illustrate a driving experience defined by sports performance and exemplary efficiency.
In order to meet the particular requirements of the compact class in terms of variability and functionality, BMW has given the 2 Series Active Tourer a cutting-edge front-wheel-drive set-up. And it has honed its responses to fully satisfy the dynamic expectations of a model wearing the BMW badge.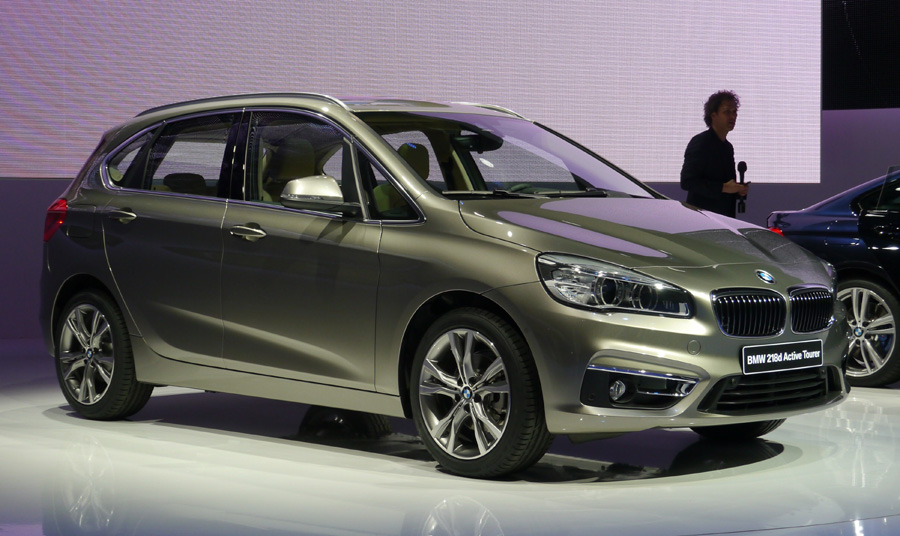 BMW 2 Active Tourer debuted on Geneva Motor Show on March 4, 2014. [Hao Yan/chinadaily.com.cn]