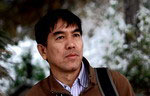 What kind of car -whether it's a domestic or foreign brand, luxurious or ordinary - an official rides in has long been of concern to the general public.
This is not just because they are paid for and maintained by taxpayers' money, but also because they epitomize the kind of outlook and lifestyle an official prefers. Almost all high-ranking officials prefer foreign brands, Audi in particular, which has been interpreted as their preference for the comfort those sedans offer and also the social status they symbolize.
Despite the 2002 Government Procurement Law that requires domestic brands be purchased for official use, very few officials who are entitled to official motor vehicles have opted for a domestic brand during the past decade.
However, the foreign minister's switch from a foreign brand to domestic one ushers in a new era. The Hongqi H7 has been designated the sedan for minister-level officials, which can be interpreted as a gesture toward the reversal of the unhealthy tendency that has prevailed among officials up to now.
For more than 2,000 years, official rank has long been associated with privileges. In ancient dynasties, officials rode in sedan chairs with the number of bearers determined by their rank. The higher the rank of the official, the more bearers there were. By counting the number of bearers, people could tell how high an official's rank was.
However, officials, no matter how high their position, are civil servants. This is what every Party member and government official is told and supposed to continually bear in mind so they can do a good job serving the people.
But in reality, the use of official cars by ranking officials has long been a source of public grievance. Their use of luxury limousines and their use of official vehicles for private purposes have long been seen as an abuse of power.
So little wonder that the foreign minister's use of a Chinese brand has become news.