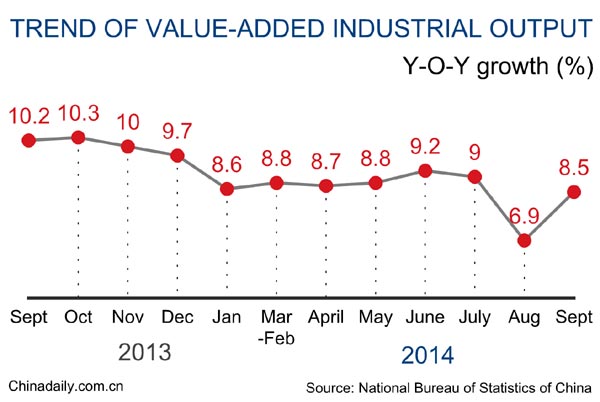 BEIJING -- China's industrial production growth decelerated to 8.5 percent year on year in the first three quarters, down 0.3 percentage points from that of the first half of 2014, official figures showed on Tuesday.
"The growth of industrial production remained stable," the National Bureau of Statistics (NBS) said in a statement.
In September alone, the industrial output rose 8 percent year on year, 1.1 percentage points higher than in August, it said.
On a month-to-month basis, the industrial output in September expanded by 0.91 percent from the previous month, much higher than the fractional 0.22-percent growth recorded in August, it said.
In August, year-on-year industrial production growth tumbled to 6.9 percent, raising market concerns that the "world's factory" was losing growth momentum.
China uses industrial production, officially called industrial value added, to measure the business activities of designated large enterprises, each with annual turnover of at least 20 million yuan ($3.25 million).
Industrial production accounted for 46 percent of China's total GDP in 2013, making it one of the best leading indicators for China's GDP growth.
NBS data also showed that the value-added industrial output of state-owned and state-controlled enterprises saw 5.2-percent growth year on year in the first three quarters, while that of joint stock companies expanded by 9.9 percent. Industrial output of enterprises funded by overseas investors expanded by 6.7 percent in the period.
Value-added industrial output in the manufacturing sector rose 9.6 percent year-on-year in the first nine months. That of the mining sector rose by 4.8 percent.
Out of 464 types of industrial products, 346 types posted year-on-year growth in output. In the first three quarters, the sale-to-output ratio of designated industrial enterprises stood at 97.7 percent, or 0.2 percentage point higher than the first half of this year, data showed.
From January to August, total profits of such enterprises grew 10 percent year on year to 3.83 trillion yuan, NBS data showed.