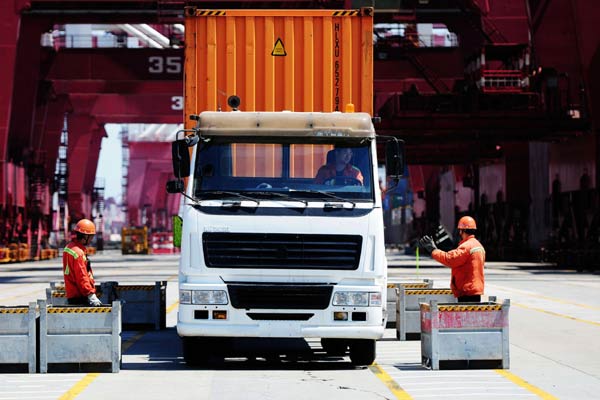 Containers are handled at a port in Qingdao, Shandong province. The service sector performed well in August, with business activity and new orders both rebounding.YU FANGPING/CHINA DAILY
Services gain in August though manufacturing gauge still shows signs of weakness
Figures from the service sector's performance last month have provided further evidence that the economy is rebalancing along the lines that national planners intend, analysts said.
The official services Purchasing Managers Index edged up to 54.4 in August from 54.2 in July, the National Bureau of Statistics and China Federation of Logistics and Purchasing announced on Wednesday.
In the same month, the manufacturing PMI slid to 51.1 from 51.7 in July, the NBS and CFLP said on Monday. The reading, nonetheless, held above 50, which divides expansion from contraction.
"The service sector performed well in general, with business activity and new orders rebounding," CFLP Vice-Chairman Cai Jin told a news briefing in Beijing. The reading "shows that enterprises are actively purchasing and there is a strong chance that their production activity will pick up."
A separate services PMI compiled by HSBC Holdings Plc and Markit Ltd surged to a 17-month high of 54.1 last month from 50 in July.
The benchmark Shanghai Composite Index rose 1 percent on Wednesday to 2,289 points, a 15-month high.
The latest figures show that China's policy mix has achieved preliminary success in shifting the economy away from a manufacturing-led growth model to one driven by consumption. The government wants the service sector to play a bigger role in growth because it puts less pressure on resources and the environment, and employs more workers.
In addition, a thriving service sector will counter the drag of a cooling property market and help the nation fulfill its full-year growth target of 7.5 percent.
Standard Chartered Plc said in a report on Wednesday that growth momentum is shaky, as suggested by the drop in the manufacturing PMI, and additional easing is needed to ensure that the growth target is met.
"The economy still faces downside risks to growth in the second half of the year from the property sector downturn ... We think policymakers should use further easing measures to help support the recovery," Qu Hongbin, chief China economist at HSBC in Hong Kong, said in a statement.
The services PMI is based on data compiled from monthly replies to questionnaires sent to purchasing executives of 1,200 companies in 27 industries.