Coal giant's share price surges 16%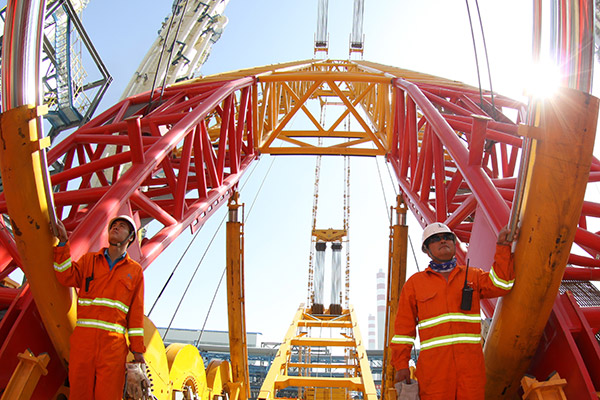 Shenhua workers install equipment at a coal-to-liquids project in the Ningxia Hui autonomous region. [Photo/China Daily]
Largest mainland producer rides a rebound in prices, upbeat demand
Share prices of China Shenhua Energy Co Ltd-the country's biggest coal producer-surged 16.28 percent to close at HK$19.14 ($2.46) in Hong Kong on Monday, outperforming the city's benchmark Hang Seng Index which gained 0.79 percent to 24,502 points, after a major leap in earnings for last year was reported.
The share price takeoff came in the wake of the group reporting on Friday a more than 40 percent increase in its net profit in 2016. China Shenhua also reported that its profit surged at least 50 percent in the first two months of 2017 over the same period of 2016, while estimating the coal price to remain at a reasonable range between 500 to 570 yuan ($72.4 to $82.5) per metric ton in the current year.
The company said that a rebound in the coal price and upbeat demand saw net profit jump 41.1 percent to 24.91 billion yuan in 2016 compared with 2015, while revenue rose 3.4 percent to 183.13 billion yuan. Earnings per share came in at 1.252 yuan.
After weighing the company's abundant cash flow as well as its investment expenditure levels, a special dividend of 2.51 yuan was recommended by the company and a final dividend of 0.46 yuan per share was declared. That took total dividends to 2.97 yuan per share or 59.07 billion yuan for the year.
"Our decision to issue the special dividend is to answer our shareholders' calls for higher dividends and to increase our rewards to shareholders. It's not affected by external factors, such as government or outsiders' proposals," said Shenhua President Ling Wen.
Coal prices in China surged last year, snapping four years of declines, as a result of the government's effort to curb industrial overcapacity. At the end of 2016, the price index of Bohai Bay thermal coal was 593 yuan per ton, up by 222 yuan per ton compared with the beginning of the year.
Against a backdrop of adjustments to demand and the government's actions, Shenhua sees the market gradually being rationalized in 2017.
The company-which also owns power plants and railroads-set its 2017 coal production and sales volume targets at 298 million tons and 407 million tons, up 2.8 percent and 3.1 percent respectively from the previous year.
Its power output target was set at 214.7 billion kilowatt-hours, down 2.7 percent. Capital expenditure in 2017 was expected to come in at 35 billion yuan.
"We will accelerate the implementation of our clean energy development strategy in 2017, by further renovating 12 coal-fired generators with the total capacity of approximately 7,820 mW, to build a green model for the coal-fired power industry, " Ling said.
Credit Suisse raised its profit forecast for Shenhua for 2017 by 19 percent after the announcement of the better-than-expected results.
Its target share price was raised from HK$14 to HK$15.3 to reflect the higher Qinhuangdao coal price forecast this year.
However, Credit Suisse warned that the spot coal price has peaked, posting downside risk in the second half of the year. As a result it kept the stock on an Underperform rating.