Home / Business / Biz Photos
Weaving a colorful life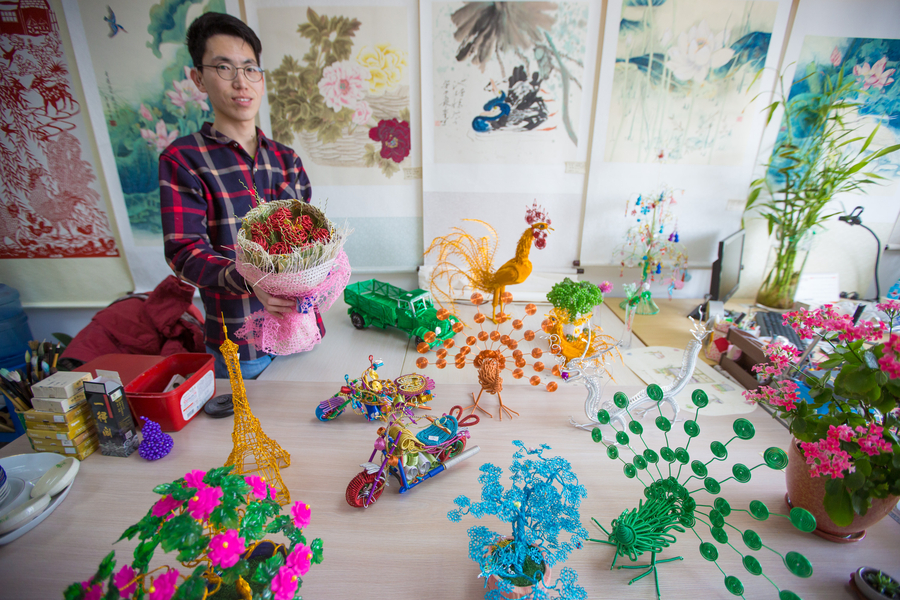 Li Yanfeng with some of his iron wire handicrafts in his studio in Changchun, Northeast China's Jilin province, March 9, 2017. [Photo/VCG]
Li Yanfeng, in Changchun, Northeast China's Jilin province, is so skillful at making handicrafts with colorful iron wires, he sold about 1,000 wire woven roses on Valentine's Day.
The 27-year-old has suffered hearing loss since birth, but the misfortune has not stopped him from pursuing his dreams. At the age of 23, he first discovered wire weaving. He was quickly able to make simple pieces thanks to a natural talent and previously studying fine arts for a year.
Wire weaving is time and energy consuming. Li uses piles of iron wires and often suffers broken nails and blistering hands as he stays up late to complete a product. To search for materials, he once went to an internet cafe six times in one day as he did not have a computer at home at the time.
Li later opened his own studio where he holds workshops on making handicrafts and painting frequently. More and more people come to the studio to buy his products as his fame grows.