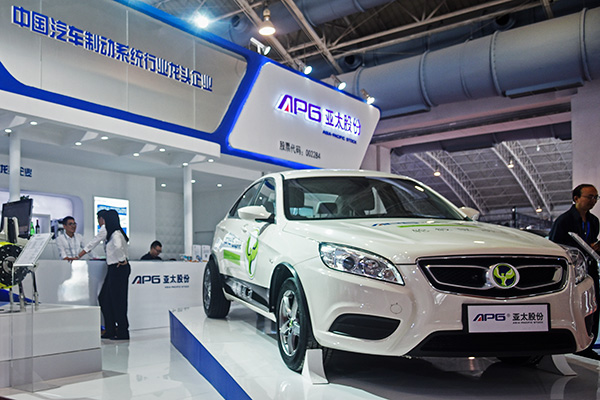 A Zhejiang Asia-Pacific Mechanical and Electronic Co Ltd stand at an auto show in Beijing. The company is a manufacturer of automobile parts and will give a demonstration during the G20 summit in Hangzhou, Zhejiang province. Chai Shijue / For China Daily
Analysts say pre-meet gains by shares retrace a bit on profit-taking
Share prices of A-share listed companies which are suppliers to facilities and utilities serving the G20 summit in Hangzhou fluctuated over the past week amid short-term speculation and profit-taking, but analysts said on Friday they were bullish in the long run for the companies, given an expected improvement in their business environments.
Some 20 companies are classified by analysts as G20-related event-driven stocks, among which eight have stated in financial disclosure materials that they have been supplying facilities, utilities and system solutions supporting the G20 summit.
These included a venue constructor, a comprehensive environment improvement solutions provider and a security checking solutions provider.
Investors' sentiment toward these companies were rising in early August and pushed up share price by more than three percent on average, according to data of Shanghai-based WIND Information Technology Co Ltd. Share prices, however, dropped since Thursday amid profit-taking, analysts said.
A research note from Soochow Securities Co Ltd said it was a natural result for event-driven stocks to see share prices fluctuate within short term as speculators timed the market.
For example, ENJOYOR Co Ltd, a smart city solution provider, designed the volunteer dispatching system for the G20 summit. Its share price dropped 1.1 percent to 19.78 yuan ($2.96) on Friday, but was 13.2 percent higher than that of a month ago.
Hangzhou CNCR-IT Co Ltd, an information technology company which provides social identity registration information and security check technology solutions and is helping the city to strengthen security and safety management during the international event, saw its share price drop 1.5 percent to 28.33 yuan on Friday, although this was still 10.8 percent month-on-month growth.