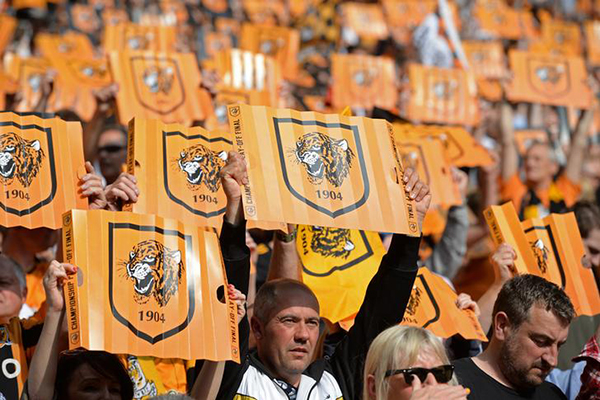 Fans of Hull City hold up banners at a match in Wembley Stadium. [Photo/Agencies]
A Hong Kong-based professional services company said it has agreed to buy English Premier League soccer team Hull City for 130 million pounds ($159.5 million).
GreaterChina Professional Services Ltd's agreement is the latest foray into European soccer by China-focused companies.
GreaterChina said in a statement filed with the Hong Kong Stock Exchange that the agreement is not legally binding and hasn't been concluded. At least one other bidder is still interested in the club, according to a person familiar with the situation. Hull City saw a previous approach from a separate Chinese bidder collapse earlier this year.
Hull didn't reply to a request for comment.
GreaterChina, which describes its main businesses as asset appraisal and advisory work, advertising and financial services, said the proposed takeover would lead to business opportunities in China. GreaterChina plans to distribute and market Hull City products in the country, according to its statement.
Developing a following in China would be a big leap for Hull, which is located in Yorkshire in northern England. The team returned to the Premier League this season from the second-tier English league, having reached the top flight for the first time in its history in 2008.
Hull is in 16th place, two places and one point above the relegation zone, and it attracts crowds of around 21,000 per match.
Like most teams of its size, Hull's financial fortunes are determined by its participation in the Premier League and access to the most lucrative domestic television contract in soccer. This year, the last-placed team will get about 100 million pounds.
Bloomberg