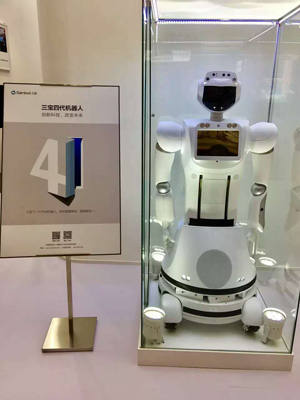 Qihan Technology demonstrates a prototype of the company's service robot named Sanbot at the World Robots Conference (WRC) 2016 held in Beijing.[Photo by Liu Zheng/chinadaily.com.cn]
Some voices in the industry reckoned that thanks to developments in the internet around the world, the R&D growth rate of AI robots will be faster than people's expectations, and we will witness a boom in the industry similar to the rise of the smartphone sector, in a very short period.
"AI is recognized as a new subject and cutting-edge technology, fusing computer science, psychology and even philosophy, to stimulate, learn and expand the intelligence of human beings in solving language and image recognition and natural language processing," said Zhuang Yongjun, chief technology officer of Qihan Technology Co Ltd.
Qihan participated in this year's World Robots Conference (WRC) 2016 held in Beijing, demonstrating the company's service robot named Sanbot, which is able to interact with users through voice control and facial recognition.
"The new tech has been deployed in a variety of industries, including voice identification and physical object recognition," Zhuang said. "Due to the complexity of algorithms, which are associated with large amounts of data mining, the implementation of AI relies heavily on the internet to conduct cloud computing to achieve performance."
Zhuang noted that the R&D abilities of Chinese robot manufacturers have become more and more strong and technology-driven companies have mushroomed in the country in recent years.
"The more things the hardware is able to do, the greater the demand for AI will be," said Zhuang.
Since its establishment in 2006, the Shenzhen-based company has become a global leading CCTV surveillance equipment and solutions provider.
The company currently owns more than 100 patents based on Machine Vision Recognition, Multi-axis Automatic Control, and Big Data Analysis.
In a recent published report by the White House entitled "National Artificial Intelligence Research and Development Strategic Plan", China was described as a nation that has overtaken the US in terms of the number of journal articles that mention "deep learning" or "deep neural network", which are core subjects in the AI R&D development process.
Zhuang said that existing AI technologies used in robots focus on voice and image recognition, and the algorithms behind the applications have close relevance to "deep learning".
"Chinese enterprises who specialized in voice recognition, semantics understanding and image identification have performed very well in recent years. Some of the leading companies in the country have also ascended to top positions worldwide," said Zhuang. "Chinese companies' enthusiasm about AI has overtaken imaginations of some developed countries."
But he added that many algorithms were originally published by overseas engineers and the R&D of a large number of AI applications had drawn lessons from overseas counterparts.
Statistics from the International Federation of Robotics (IFR) show that the market demand for service robots will boom in the next three years, with the market scale reaching $46 billion, up more than 6 times that in 2015.
"Medical assistant robots, elder-care robots and education assistant robots will be some of the core segment markets in the future," Zhuang said.