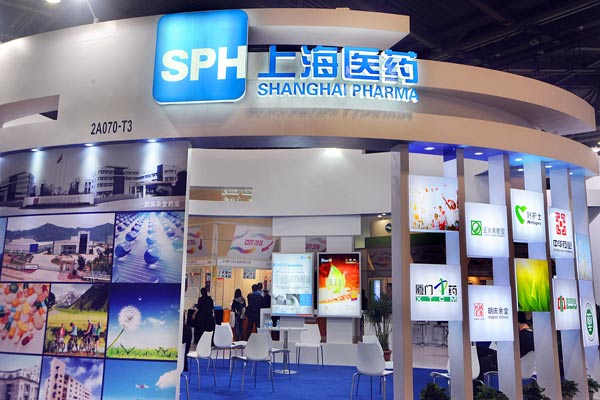 A booth of Shanghai Pharmaceuticals Holding Co Ltd at an exhibition in Shanghai, April 21, 2016. [Photo/VCG]
Deal will combine the Chinese company's networks with Australian healthcare brands
Shanghai Pharmaceuticals Holding Co Ltd agreed to take a 60 percent stake in Australian vitamins maker Vitaco Holdings Ltd for around 938 million yuan ($141 million) on Thursday.
The Hong Kong-listed drugmaker said in a regulatory filing that its wholly owned subsidiary, SIIC Medical Science and Technology (Group) Ltd, and private equity firm Zeus Ltd, which will contribute 40 percent to the deal, have agreed to set up a joint venture for privatization of the Australia-listed healthcare company.
Shanghai Pharma said the deal would combine its own networks and sales channels in China with Vitaco's high-quality healthcare brands.
Vitaco was listed on the Australian stock market less than a year ago at A$2.10 ($1.60), valuing the company at A$292 million.
Under the proposed Vitaco deal, shareholders will receive A$2.25 in cash per share, a 28 percent premium to Vitaco's closing price on Wednesday, which values the company at about A$314 million.
News of the possible merger was favorably received by shareholders as Vitaco shares soared nearly 20 percent on Thursday to A$2.11.
However, the takeover bid is yet to pass several other conditions, including shareholder and court approvals. It also must receive a green light from Australia's Foreign Investment Review Board.
Australia and New Zealand are the major markets for Vitaco, which mainly produces health food and sports nourishments. The company entered the Chinese market with its Healtheries and Musashi brands via e-commerce and through Chinese dealers based in the two Oceania countries.
Vitaco said the deal would help it grow in the world's second-largest economy, where the vitamins and dietary supplements business is expected to surge to around $20 billion by 2018, according to Euromonitor.
The deal comes less than a year after Hong Kong-listed Biostime International Holdings Ltd bought larger Australian vitamin maker Swisse Wellness Group Pty Ltd for about $1 billion in September.
As of early July, Chinese companies have announced more than $3.9 billion of overseas acquisitions in pharmaceutical, biotechnology and medical healthcare sectors, expecting to surpass the record set last year and 10 times that of 2012.