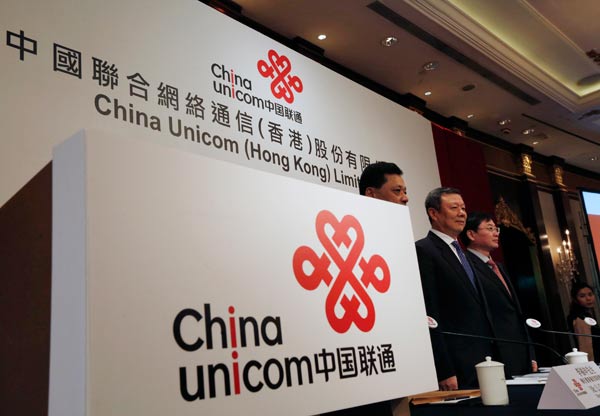 China Unicom Executive Director and Chief Financial Officer Li Fushen, Chairman and Chief Executive Officer Wang Xiaochu and Executive Director and President Lu Yimin (from left to right) attend a news conference during the company's announcement of its annual results in Hong Kong. [Photo/Agencies]
China United Network Communications Group Co is likely to see further profit decline in the coming quarters, as the State-owned firm continues its hefty investments into 4G infrastructure to catch up with the market leader, analysts said.
But the decline will not affect the company's long-term research into 5G and the internet of things, which are widely seen as the next big opportunity for telecom carriers, they added.
China Unicom, the country's second-biggest mobile career by subscribers, warned in late July that its net profit in the first half of this year will drop by around 80 percent compared with the same period last year.
The decline, according to an announcement published on its website, is due to the increased selling and marketing expenses, higher energy charges, more property rental fees and other factors.
Xiang Ligang, telecom expert and CEO of industry website cctime.com, said since last year, China Unicom has been sparing no effort to increase the number of 4G subscribers, which is far less than that of China Mobile Communications Corp, the biggest mobile carrier in China.
"Such efforts led to a surge in selling and marketing expenses. And the trend will continue because China Mobile now accounts for 70 percent of the country's 4G market and there is a lot for China Unicom to do," he added.
China Unicom said earlier it would spend 45 billion yuan ($7 billion) this year on subsidizing users who buy China Unicom's contract phones and 10 billion yuan on retailers who sell these devices.
As of late June, China Mobile had 420 million 4G users, more than the combined number of China Unicom and smaller player China Telecommunications Corp.
But China Unicom's efforts have started to pay off. Its 4G subscribers reached 72.4 million in June, up by more than 46 percent compared with the number in January.
Peter Liu, research director at consultancy Gartner Inc, said the government's call for lower internet fees and better speed also dragged on China Unicom's profitability, as was the same case for the other two telecom carriers.
"China Unicom is in fact moving in the right direction by focusing on 4G, which it had been very reluctant to pour money into because its 3G products are so successful and popular among users," Liu said.
According to Liu, the profit declines won't affect the State-owned firm's investment in cutting-edge technologies such as 5G and the internet of things.