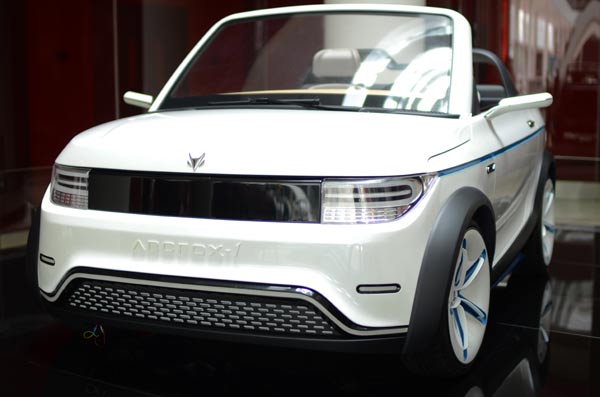 ARCFOX-1, an new energy car model of BAIC Group, on display in Shunyi district, Beijing, July 30, 2016. [Photo/IC]
BAIC Group, one of the major Chinese automakers, is taking action to develop its South and Southeast Asian markets.
BAIC Yunnan Ruili Automotive Co Ltd signed an agreement for a strategic partnership last week with Kunming Yunnei Power Co Ltd, Chongqing International Composite Materials Co Ltd and Efort Intelligent Equipment Co Ltd.
Kunming Yunnei is a diesel engine producer, the Chongqing company is a leader in the research and development of vehicle-related new materials, while Efort is a robots manufacturer.
"Our goal is to produce and sell 50,000 units annually by 2019," said Chen Lei, general manager of BAIC Yunnan Ruili.
Founded in 2013 with total investment of 3.6 billion yuan ($543 mil-lion), BAIC Yunnan Ruili is a joint venture between BAIC and Yunnan Jingcheng Group Co Ltd, whose main businesses include auto manufacturing, construction and tour-ism.
The joint venture is building a vehicle manufacturing base in Ruili, Yunnan province. The base is expected to go into operation in March 2017. It will make multipurpose vehicles, pickups, sport utility vehicles and new-energy vehicles.
It aims to reach a production capacity of 100,000 units by 2020, half of which are for the domestic market, and one quarter of which would be exported to Southeast Asian countries.
According to BAIC, the base will create an output value of 20 billion yuan after going into full operation.
"The Southeast Asian market is not easy to go into," said Zhang Yu, managing director of Automotive Foresight (Shanghai) Co.
Zhang said Japanese automakers had already been there for several decades so the customers there have high standards for vehicles. Chinese carmakers should build factories there instead of only exporting to those markets.
Shi Wenzhi contributed to this story.