BAIC unit heads for IPO
Leading electric-car maker powering along with plans to build major new plant
Beijing Electric Vehicle Co, a subsidiary of BAIC Motor Corp, plans to raise funds through an initial public offering to enlarge its production capacity, a senior official said on Monday.
"We have already expanded our registered capital to 3 billion yuan ($458 million), but it is clearly not enough, so we are going for an IPO to finance our projects," said Hao Ziming, deputy Party secretary of the Beijing-based firm, without giving details on the time frame.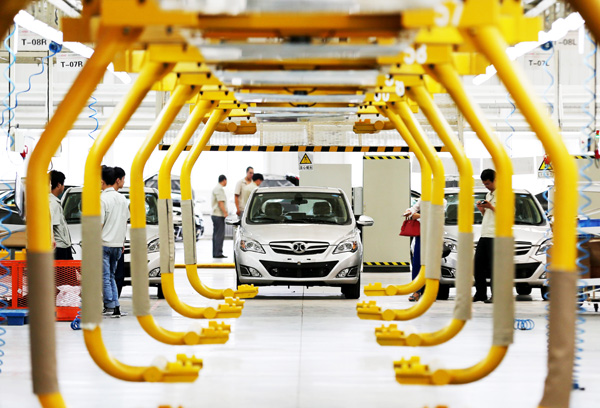 Newly made electric vehicles go through final check at a production line of Beijing Electric Vehicle Co in Beijing. Wang Zhen / For China Daily
He said the company plans to build another 100, 000-unit factory in Beijing, adding to the existing two bases in Beijing and Qingdao of Shandong province, which are able to produce 20,000 and 50,000 units annually, respectively.
The carmaker announced a five-year plan for the development of new-energy vehicles, after topping the domestic market in terms of sales volume.
It plans to sell 500,000 units by 2020 and it is expected to rake in 60 billion yuan in sales in the next five years. Founded in 2009, the electric-car producer sold more than 20,000 units in 2015, doubling the sales from the previous year.
Hao attributed the growth to the government's supporting policies, as well as the efforts the firm has put in recent years into research and development.
Premier Li Keqiang pledged in March during a State Council meeting to push for more use of new-energy vehicles, and to encourage more innovation to accelerate the development of the sector.
China, the world's largest consumer of energy, will increase the proportion of new-energy vehicles in public transport and logistics to more than 50 percent.
Zheng Gang, Beijing Electric Vehicle's general manager, said that the firm will redouble its investment in research and development, and build a team of more than 5,000 workers.
The company is also building overseas research centers in countries including the United States and Germany for research and development of electric vehicles, batteries and vehicle-navigation systems.
"Our electric cars are able to drive a distance of 260 kilometers per charge, but it will not take long before we launch 300-km or even 400-km vehicles," Hao said.
After gaining success in the domestic market, the company is planning to tap the potential into foreign markets such as the US and Spain.
The Beijing-based firm signed agreements earlier this month with Mullen Technologies Inc, an electric-vehicle manufacturer and distributor of high-tech vehicles, and Campos Racing, a Spanish motor racing team, in order to get permits for the distribution of Chinese electric cars.
lvchang@chinadaily.com.cn