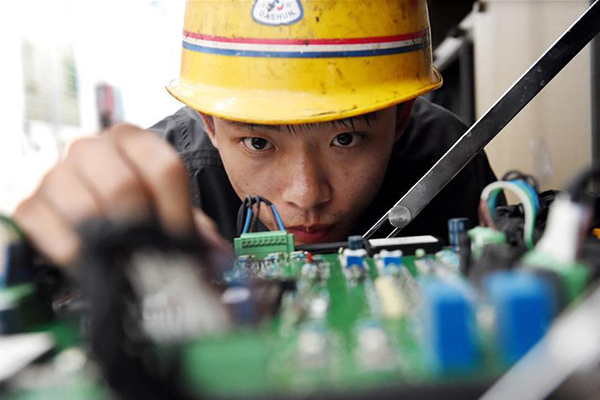 A technician checks a train's air conditioning system to make sure it works well amid hot summer days, in a railway maintenance workshop in Zhengzhou, capital of Central China's Henan province, July 25, 2016. [Photo/Xinhua]
Expansion continues to experience heavy downward pressure, key Party meeting told
China's economic growth still faces heavy downward pressure, a meeting of the Political Bureau of the Communist Party of China Central Committee presided over by General Secretary Xi Jinping heard on Tuesday.
There are "some risks and potential threats that deserve high attention", the gathering decided.
Participants agreed that in the second half of this year, the nation should continue to press ahead with supply-side structural reform, Xinhua News Agency reported.
The report also said a proactive fiscal policy and prudent monetary policy would be adopted, and various taxes and fees lowered to anchor economic growth and resolve potential financial risks.
The meeting also decided that reform of State-owned enterprises and financial sectors should be deepened, which is the key to the country's efforts to cut excessive production capacity.
Efforts should also be made to push urbanization in an orderly manner and help farmers to settle in cities to encourage consumption and address the economy's weak points.
Labor market flexibility should be increased, asset bubbles reduced and taxes cut to reduce overall economic costs, according to the Xinhua report.
Policymakers should guide market expectations of the economy properly by adopting stable macroeconomic policies and should improve public confidence in the country's development through implementing major reform measures, it was decided.
Private investment should be encouraged and a level playing field created for all types of enterprises, the report said.
According to a report by economists at investment bank UBS, China's economic growth momentum could soften in the second half. But policy support will be intensified in an attempt to anchor growth, they said.
Liang Haiming, chief economist at Beijing-based think tank the China Silk Road iValley Research Institute, said, "China faces great pressure from the economic downturn."
Xi said that despite the economic challenges it faces, China has made some headway in economic restructuring and fostering new growth engines duing another meeting on Monday.
Meanwhile, the State Council released a guideline on Tuesday on reform of State-owned enterprises.
This requires control of some key industries concerning national security and the country's "economic lifeline" to be strengthened.