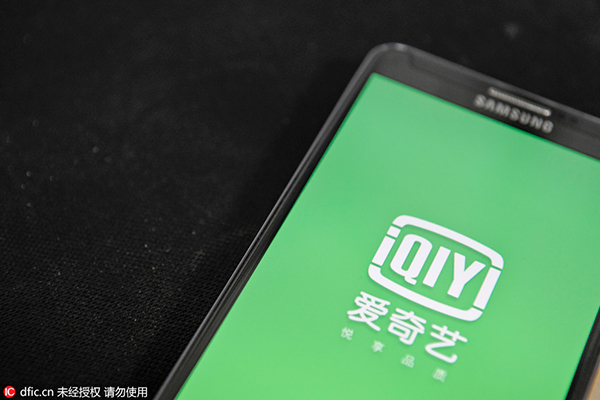 The loading homepage of iQiyi is displayed on a smartphone. [Photo/IC]
Baidu Inc may have to keep pumping money into its video-streaming operation for the foreseeable future following the withdrawal of a proposed buyout plan that could have made the cash-burning division a standalone business.
A consortium led by the chief executive officer of the Chinese online search giant abandoned its bid to buy out its video-streaming operation iQiyi.com Inc after failing to reach an agreement "on the transaction structure and purchase price".
An investor group led by Baidu CEO Robin Li and iQiyi CEO Gong Yu offered in February to acquire Baidu's 80.5 percent stake in a deal that valued the Netflix-like service at $2.8 billion.
The pair informed the board that they had withdrawn the offer after failing to strike a deal despite several rounds of discussions, Nasdaq-listed Baidu said on Monday.
Baidu's share price dropped 0.39 percent in trading on Monday, closing at $160.25.
The withdrawal came days after New York hedge fund Acacia Partners criticized the online search giant for considering selling iQiyi at a price that is "far too low". The hedge fund, which has 2.6 million Baidu shares, cited an independent research report that said the video-streaming business was worth $5.8 billion.
Wu Tianhua, an industry observer specialized in US-list Chinese stocks, said it is quite rare to see the withdrawal of a management buyout proposal.
Wu said that changes in regulations in China had made it difficult for loss-making companies, such as iQiyi to go public. "And it would be very pricey to list iQiyi in China through a backdoor listing," he said.
Gong Yu, CEO of iQiyi, said earlier that the company had 20 million paying subscribers in June. The number is small given that the iQiyi app had around 299 million active users in May, said iResearch.
Bloomberg contributed to this story.