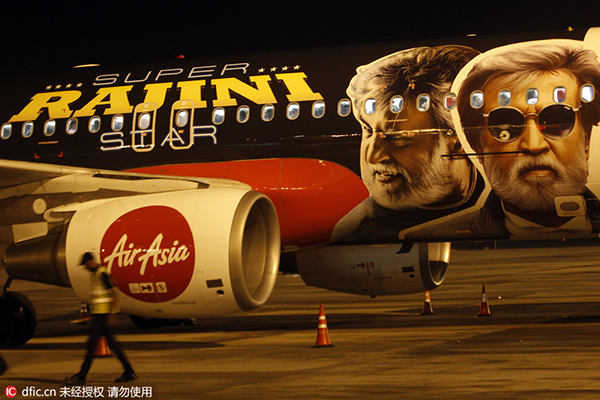 A ground staff member walks past the Malaysia-based budget carrier AirAsia plane dedicated to Rajinikanth and painted with his pictures after it landed in Bangalore, India, July 22, 2016. [Photo/IC]
Last week, two south Indian regional language movies with Chinese elements or links released, suggesting Sino-Indian synergy in entertainment is there for the taking.
Generally, Indian and Chinese film industries equate overseas expansion with a presence in the United States and Europe, and finding audiences among sizeable diasporas there. Kabali and Baahubali could prove potential game changers.
For the uninformed: Kabali stars Tamil-language matinee idol Rajinikanth, 66, in the lead. Millions of crazy Rajini fans in India and abroad, coupled with slick marketing and online social media mania, ensure that every new film of his becomes a news event globally.
To fly ahead in India's fiercely competitive civil aviation market, Malaysia-based low-cost carrier AirAsia Bhd associated with Kabali, a gangster movie about Tamil emigrants in Malaysia.
AirAsia organized special flights to fly Rajini fans from various places to Chennai, capital of India's Tamil Nadu province, for Kabali screenings. Its aircraft were emblazoned with the film's imagery, an unprecedented publicity stunt for a movie.
The China element in Kabali is the antagonist, a Malaysian Chinese don, played by Winston Chai, an actor from Taiwan. Kabali was released on 4,000-odd screens in Asia and beyond and is said to have already set quite a few box office records. Now, there is a buzz the version with Chinese subtitles may well make it to China.
In this respect, Telugu-language Baahubali (the strong-armed one), India's costliest and biggest grosser to date, has stolen a march over Kabali.
Soft-launched with Chinese subtitles last week in Beijing and Shanghai, a year after its release in India and the US, the fantasy tale of feuding princes, kingdoms, wars and love, appears to have struck a chord with Chinese audiences. Chinese entertainment websites ran trailers and curtain-raisers that evoked enthusiastic response from their users.
Saturday evening, I spent 83 yuan ($12) to watch the two-hour Baahubali-it has been condensed and customized for Chinese audiences-at Megabox cinema in Sanlitun, Beijing. As a Telugu, I'm pleased to report the auditorium was 80 percent full.
Chinese viewers chose to check out this first of the two-part movie even though they had a million other options to enjoy the Saturday night. They appeared to thoroughly savor the top-end "visual extravaganza". It's the first time that such south Indian entertainment hit the big screens in China.
After the show (which ended on a suspenseful note), I bumped into two Indian gentlemen among the audience who said they had come all the way from India to get a feel of the scene. Turns out, they are the representatives of the Baahubali film unit (even they bought tickets, they said).
Going by the encouraging response of local people, they said, it is possible the sequel to Baahubali, currently under production and slated for release next year, might hit China screens sooner than later.
It's a no-brainer actually. As consumers of culture and entertainment go global in outlook and tastes, demand for variety and novelty will rise. Only, themes and stories need to be comprehensible and universal.
Be it the US animation movie Warcraft or the Indian yoga, Chinese have taken to them in large numbers and spawned businesses worth billions of yuan.
Hold that vision a bit, and you will see one humongous geography of entertainment powerhouses, starting from India's Bollywood, through China's "Chollywood", to US' Hollywood. (The Pacific Ocean is but a gap bridged by under-ocean communication cables and orbiting satellites in space that already facilitate transcontinental technical work.)
I foresee tremendous cooperation ahead. Asian movies and TV content will go global on the back of modern dubbing and sub-titling technologies.
For example, millions of Indians watch Chinese martial arts movies online. Both countries boast entertainment infrastructure and technical talent of epic proportions. India's studios could prove cost-effective for Chinese producers. Besides, stunning locales fit for film and TV shoots abound in both countries.
I dare say Sino-Indian joint ventures are inevitable. Millions of jobs, economies of scale and deepening of bilateral cultural and economic ties appear possible.
Kabali and Baahubali have shown Asian content offers international commercial, marketing and branding opportunities, something Chinese corporates, especially those in entertainment, aviation, technology and tourism, can ill afford to ignore.