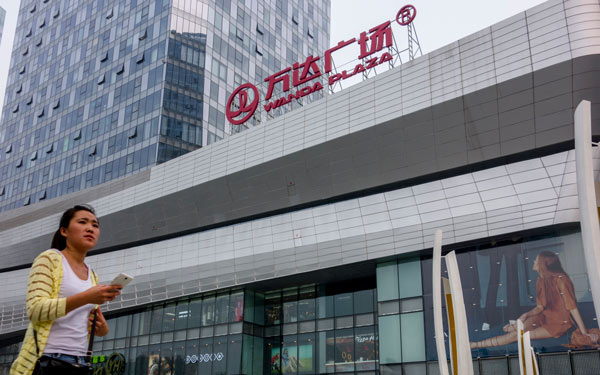 A Wanda Plaza in Beijing. Dalian Wanda Group Co plans to build an industrial park in the northern part of India. [Photo/China Daily]
Chinese billionaire Wang Jianlin's Dalian Wanda Group Co has agreed to invest up to $10 billion in India to build an industrial park in the northern part of the country, its latest efforts in expanding overseas.
The company signed a memorandum of understanding in Beijing on Friday to build the Wanda Industrial New City, an industrial zone in the northern Indian state of Haryana.
According to sources from the Haryana government, the first phase of the project will be spread over 13 square kilometers covering an entertainment park and industrial park that houses companies in software, automotive manufacturing, machinery, healthcare education and other industries.
Wanda is mainly responsible for investing in the initial infrastructure and the real estate developer will attract other companies from home and abroad to get involved with the project, while a Wanda Cultural Tourism City and a residential district is also part of the blueprint, according to a statement issued by the Chinese company.
While many Chinese real estate developers are heading for developed countries on the European and American continents, eyeing potential wealthy buyers from China to invest abroad, Wanda's foray into India's property market is considered more of overseas expansion and brand export, said experts.
Xie Yifeng, the president of the Realty Association of Asia-Pacific Cities, said: "Wanda's advantage lies in its low-cost operation, mature development mode and rich operation management experience in investing in India."
However, he also warned of possible market, political and policy risks, saying large-scale commercial development has always been a contentious issue in India, where it takes several years to complete the land acquisition process.