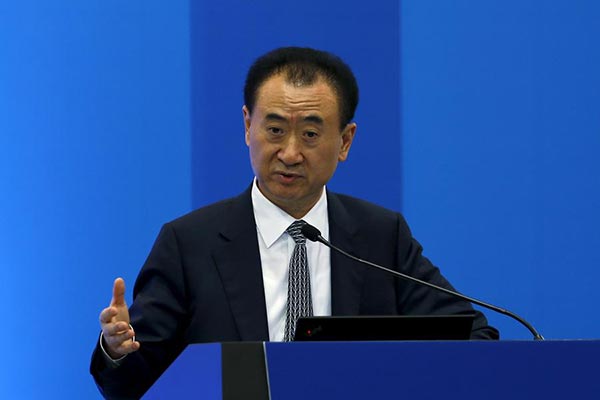 Wang Jianlin, Chairman of Dalian Wanda Group in China, speaks before a dialogue session during the Asian Financial Forum in Hong Kong, China, January 18, 2016.[Photo/Agencies]
Property giant Dalian Wanda Group Co Ltd is planning to launch an initial public offering of its Internet finance arm and has announced huge plans for development of the Internet finance business, a top official said on Monday.
Wang Jianlin, chairman of Wanda Group, said the company will focus on five major Internet-related businesses, namely big data analysis, credit investigation, online lending, mobile payment, as well as membership cards issuance and development.
Speaking at the Asian Financial Forum in Hong Kong on Monday, Wang said by 2020, Wanda's Internet-based financial services will extend to 5,000 large shopping centers, 2 million commercial tenants, and 700 million to 800 million consumers.
These will generate a large amount of data including consumer behavior and cash flow of commercial tenants, providing a solid basis for credit appraisal and create notable value for the company.
The group plans to issue 500 million membership cards that combine multiple functions including loans, credit card services and applications for retail, catering and entertainment. Holders of the membership cards will be able to earn reward points and use the cards on public transport systems in big cities.
Wanda also plans to extend loans worth 300 billion yuan ($45.6 billion) through its Internet finance arm. Of this, 200 billion yuan has been earmarked for personal lending, while corporate lending would be about 100 billion yuan.
"We believe that the membership cards and the related network will add the most value for us," Wang said. He estimated that about 40 billion customers will visit the shopping malls of Wanda Group and its retail partners by 2020.
The company will offer small loans online to small and medium-sized commercial tenants at its shopping malls, which account for more than 90 percent of the total tenants.
Wang said the group is seeking to provide low-cost finance to small businesses by selling wealth management products through its membership cards. This will become a major source of capital for its online lending services.
It is also negotiating with banks to see if they can jointly set up financing channels for small businesses at lower costs.
With land for commercial properties becoming scarce in big cities, Wanda has realized that it needs to change the old model of developing shopping malls first and then building houses for sale.
"We used to ignore the utilization of shopping centers and their returns on investment, but our focus will switch to making investments purely for the development of shopping centers, which does not involve huge stocks of real estate. By this way, we are also expanding to third- and fourth-tier cities that offer higher investment returns than first-tier cities," said Wang.