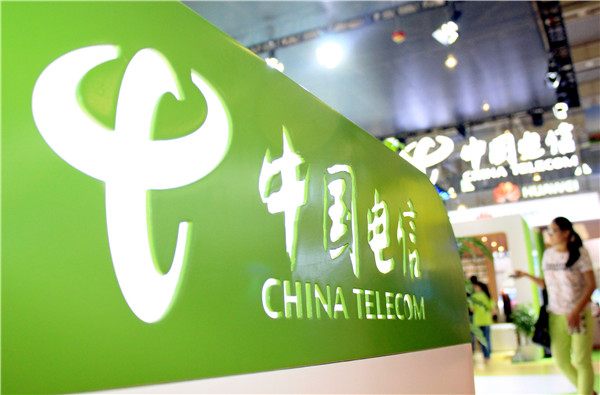 A China Telecom stand at an information industry expo in Nanjing, Jiangsu province. [Photo/China Daily]
State-run phone carriers China Telecom Corp and Saudi Telecom Co have expressed interest in acquiring 4G mobile-phone licenses offered by the Egyptian government, an Egyptian communications ministry official said on Tuesday.
They joined Kuwait's Zain, which made an official request last week, the official said.
China Telecom, the country's third-biggest mobile carrier, and Saudi Telecom, the biggest phone operator in Saudi Arabia, have not presented formal requests yet, added the official, who asked not to be named.
China Telecom did not immediately respond to requests for comment and a Saudi Telecom official declined to comment.
Interest in the 4G licenses by newcomers to Egypt may add to pressure on local units of mobile operators Vodafone Group Plc, Orange SA and Emirates Telecommunications Corp, to accept license terms before the deadline set by the government of the first week of August.
State-run fixed-line monopoly Telecom Egypt has welcomed the offering as it eyes entering the mobile market.
The communications ministry official said the licenses would only be offered to new market players in case current operators rejected the license.
Egypt has about 95 million mobile subscribers, according to the communications ministry website.
The new 4G licenses replace an earlier plan, that some mobile operators threatened to fight in international arbitration because of concerns that a new competitor would eat into their market share, the telecommunications regulator said at the time.
The government has said that operators interested in the license will have to pay half of its value in US dollars-at a time when the country faces its worst foreign currency shortage in years.
Bloomberg