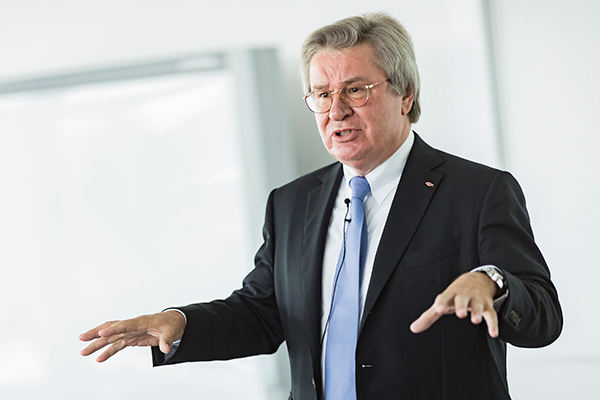 Klaus Fischer, chairman of the fischer group. [Photo provided to China Daily]
German firm says infrastructure, industry offer greatest opportunities in the Chinese market
Germany's largest fixings manufacturer fischer Holding GmbH will bring two new fixing products to China this year and complete an automotive systems plant next year, and is looking favorably at the huge potential of the Chinese market, its senior executives told China Daily.
"China remains one of the most dynamic markets worldwide and our businesses are growing rapidly, so we will invest in China through production expansion and new product launches," said Klaus Fischer, owner and chairman of the fischer group.
Besides fixing systems, the company also has automotive systems, toys and consulting businesses. It's a family company and its consolidated turnover in 2015 totaled 711 million euros ($787 million). Fischer's Asia businesses account for about 15 percent of the total revenue, and most of this is coming from China.
"For the next four to five years, infrastructure and industry should be the largest opportunities for us in China," said Alexander Bassler, managing director of fischer Group Asia and Middle East.
According to Bassler, construction activities in China will be active because of the growing population, increasing energy demand and further industrialization.
"We are bringing a new type of chemical fixing product and a new steel anchor to China this year," said Bassler.
The company's latest examples include the new Novartis Research and Development Center and the Disney theme park in Shanghai, which both opened last month. Fischer's anchors were also used in high-speed rail tunnels between Guiyang and Guangzhou.
Wang Benming, chief economist at the China Building Decoration Association, said China is gradually transforming to steel structure buildings from cement structure ones for environmental protection, so steel anchors can be very important and have huge demand in China.
Premier Li Keqiang said in the Government Work Report in March that China will expand major infrastructure projects with the aim of increasing the length of high-speed railways in service to 30,000 kilometers and linking more than 80 percent of big cities in China with high-speed railways.
The fischer group will also finish an automotive system plant in Taicang, Jiangsu province, in 2017.
By then, fischer will have one fixing systems plant and two automotive systems plants in Taicang, with a total floor area of 10,800 square meters.
"Almost all Germany's most significant car manufacturers are active in China, and with our technical know-how, Fischer automotive systems have good prospects for growth in the Chinese market," said Bassler.
Its automotive clients include Daimler, BMW, Audi, Volkswagen, Porsche, Rolls Royce, Tesla and Denze electric cars.
The range of products includes ventilation nozzles, cup holders, storage compartments and multifunctional components.
Entering the Chinese market in 1996, fischer has three production plants in Taicang, one procurement organization in Shanghai and 16 sales offices.
"We will double our revenue in China by 2020 and keep double-digit growth," said Bassler.
Jiang Zong, general manager of fischer China, said it will pay attention to launching new products and further exploring opportunities in key national investment sectors such as municipal construction, urban rail transit and railways to achieve the goal.