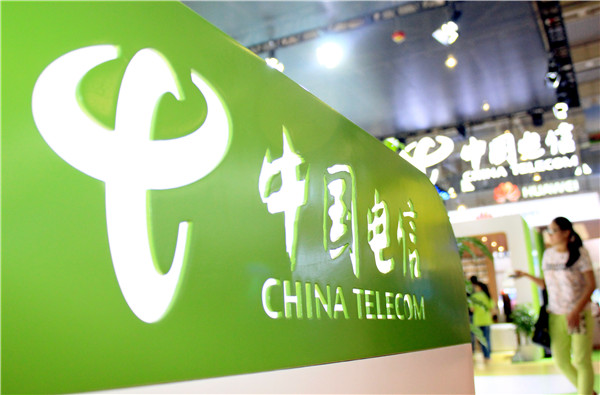 A China Telecom stand at an information industry expo in Nanjing, Jiangsu province.ZHEN HUAI/CHINA DAILY
China Telecommunications Corp, the country's third-largest telecom carrier, has upped the 4G ante by promising more resources to grow its user base in 2016.
Yang Jie, general manager of China Telecom, said: "Currently, we have 91 million 4G users, accounting for 47 percent of all our subscribers. But that is not enough. Our top priority in 2016 is to boost the 4G user penetration rate to 80 percent."
To meet the goal, the company will spend 7 billion yuan ($1.1 billion) on subsidies for handset makers and retailers that make and sell China Telecom's contract phones.
Yang said on Tuesday the company is planning to sell 90 million smartphones in 2016, the same as in 2015.
As of November, it had about 200 million users, trailing industry leaders China Mobile Communications Corp and China United Network Communications Group Co Ltd.
According to Yang, the Ministry of Industry and Information Technology will soon roll out a new industry-wide standard that requires all smartphones to support six common technologies.
"The ministry is reviewing the standard and will soon publish it," he said, adding the move will lower the costs for handset manufacturers given that they would only have to make one version for the country's three carriers.
Ministry officials were not immediately available for comment. But according to experts, if the new standard is implemented, China Telecom will benefit the most as it is using CDMA, the least used technology.
Fu Liang, an industry expert, said: "China Telecom has been spending a large amount of cash on subsidizing handset manufacturers so they can make smartphones supporting CDMA."
"But once the industry regulator rolls out the new standard which includes CDMA, it can shift more subsidies to retailers and users, which is the most efficient way to acquire new consumers."
China Telecom did not offer details on how many 4G stations it will build in 2016, which is the key to expanding 4G services and products.
Xiang Ligang, founder of the telecom industry website cctime.com, said the targets are within the range of China Telecom, but expressed concern that the goals will not help the company narrow the gap with market leader China Mobile.
In November, China Mobile said it aims to have 500 million 4G subscribers and 1.4 million 4G base stations by the end of next year. Currently the company's 4G users exceed 267 million.