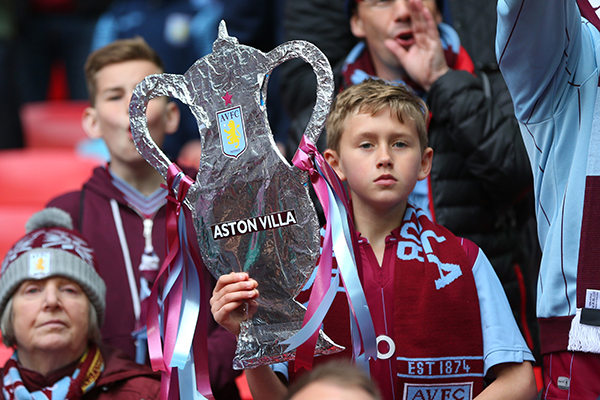 An Aston Villa fan with a homemade replica of FA Cup trophy. [Photo provided to China Daily]
Chinese conglomerate Recon Group on Monday announced its acquisition of 142-year-old Aston Villa Football Club, with a goal of returning the United Kingdom club to the Premier League and raising the level of Chinese soccer.
The deal is worth 76.5 million pounds ($101 million), according to Recon, including assuming 24.5 million pounds in debt.
Recon Group owner Xia Jiantong said his hope was to provide experience and learning for Chinese soccer through acquisition of an international soccer club that has a mature system and sound talent training programs.
"Villa is like a lion in sleep," said Xia. "We hope to wake up this lion through changes in management and operations."
Under the deal's terms, if Villa is returned to the Premier League in three years, the seller will be compensated with 30 million pounds. Villa was relegated after finishing bottom of the Premier League this month.
A great deal of research and preparations were done before the acquisition of Aston Villa, Xia said. But it was Villa's strength in training younger soccer players that impressed Recon in the end.
The company is expected to acquire more clubs in Europe, Australia and India, to establish a strong international platform to provide training and cooperation to all the Chinese soccer clubs, he said.
"Aston Villa is pleased to announce that an agreement has been signed for the sale of 100 percent ownership by Randy Lerner to Recon Group," a statement from Aston Villa said.
Recon is a holding company that has a controlling interest in five publicly listed companies on the Hong Kong and Chinese mainland stock exchanges.
According to CCTV, Baidu Inc's CEO Li Yanhong has made progress in the purchase of Italian club AC Milanfor $437 million.
Should the deal go through, AC Milan will join a long list of European soccer clubs to get investments from China in recent years, including among others: Inter Milan, Atletico Madrid, Espanyol, Manchester City, Aston Villa, Sochaux FC and Slavia Prague.