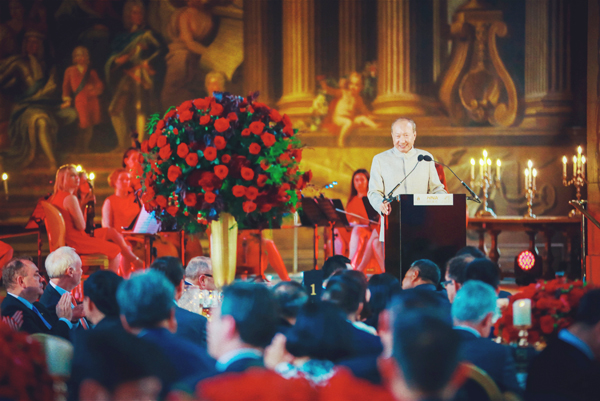 Chen Feng, Chairman of HNA Group, gives a speech at a HNA Group charity dinner at the Old Royal Naval College on June 27, 2016 in London. [Photo provided to China Daily]
Chinese conglomerate HNA Group announced a commitment of at least 26 million yuan ($3.9 million) of corporate social responsibility projects globally for the next five years, riding on a wave of Chinese companies increasingly creating the image of responsible companies as they expand worldwide.
HNA made the announcement on Monday night at a charity dinner at the Old Royal Naval College, Greenwich, London, which it co-hosted with the China Britain Film Festival. HNA also published a report outlining its 2015 social responsibility activities which contained details of HNA's projects in areas like disaster relief, ecological sustainability and promotion of equality.
"By attaching great efforts on sustainability, we strive to build HNA as a world class enterprise with an excellent corporate structure, management model, business culture and focus on corporate citizenship," said Chen Feng, Chairman of HNA Group.
HNA Group, founded in 1993 in Haikou as an airline company, has grown rapidly over the past decade into a conglomerate consisting of six core areas of business – aviation, holdings, tourism, capital, logistics and eco-technology. In 2015 it entered Fortune Global 500 for the first time, ranking 464, with annual revenue of $25.6 billion.
Chen said globalization expansion is essential to HNA Group. "We have grown into such a scale that requires us to have an international vision and perspective. In my view, globalization is not about spreading Chinese influences, but is about sharing values with a wider business world," he said.
The three projects announced at the charity dinner include a collaboration with the United Nations Educational, Scientific and Cultural Organization to preserve the cultural heritage of Nepal, a collaboration with the United Nations Children's Emergency Fund to fund the protection of Chinese children affected by domestic violence, and another collaboration with UNICEF to donate to children in countries and regions suffering from natural disasters or wars. These three projects amount to 26 million yuan of donation over the next 5 years.
Contact the reporter on cecily.liu@mail.chinadailyuk.com