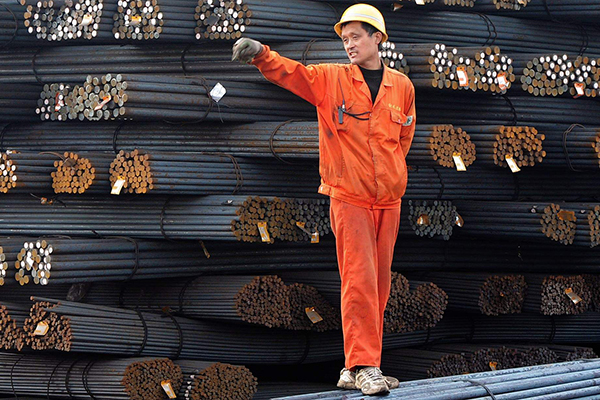 A worker at a steel depot in Qingdao Port, Shandong province. [Photo provided to China Daily]
China's GDP growth rate cannot be lower than 6.5 percent, Xu Shaoshi, chairman of the National Development and Reform Commission, the country's top economic planner, said
on Sunday
.
He says the reasonable growth range should be at 6.5 to 7 percent.
"The most urgent task this year is to finish cutting excessive industrial capacity, " Xu said at the ongoing 2016 Tianjin Summer Davos, pointing out that traditional industries such as steel and coal were the key focus.
"The goal last year was to cut 280 million tons in coal industry, 45 million tons in steel industry and to relocate 700,000 and 180,000 employees respectively.
"In the upcoming three to five years, the goal is to cut 100 to 150 million tons of over capacity in steel industry, 500 million tons in coal industry."
Xu says China will improve the market environment to support new industries and business models.
Xu also says Brexit could trigger capital outflows that could add downward pressure on asset value and on the renminbi.
But he says fluctuation in the economy is normal.
Xu said China would continue to push pragmatic cooperation with both Britain and the EU and would like to see a prosperous Europe as a whole.
"China's economy is overall stable and has good prospect, we should be confident in it," he said.