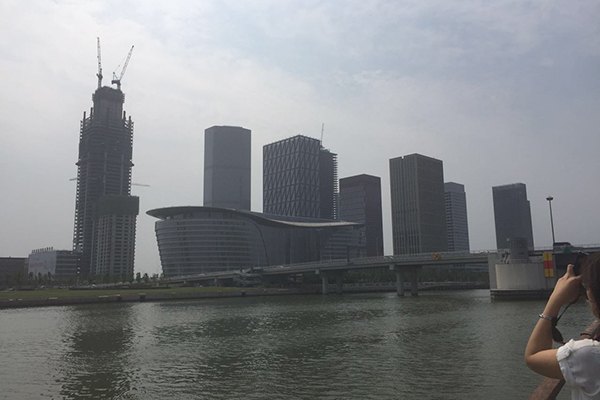 A tourist takes pictures of the financial district Yujiapu of the Binhai New Area CBD, in Tianjin, June 27, 2016. [Dai Tian/chinadaily.com.cn]
Sailing along the Haihe River, you would be amazed at the achievements Binhai New Area made. From merely a construction site just two years ago, it is has now transformed into central business district (CBD), said Zheng Weiming, director of the CBD.
Despite its humble start, Binhai New Area CBD, a key part of the Tianjin Free Trade Zone, aims to become a national hub for financial services, modern business and high-end services.
The region is expected to double its economy in 2016, after growing at the same level last year, according to the district government.
"The Binhai CBD has grown into a full-fledged business center. Not only can you register your company here to enjoy benefits of the Free Trade Zone, we would also like you to set up offices and stay," said Zheng.
First of its kind in North China, the Tianjin Free Trade Zone was established in April last year as a test bed for national replicable reforms.
Here are what you could count on in the Binhai New Area CBD in terms of staying and doing business.