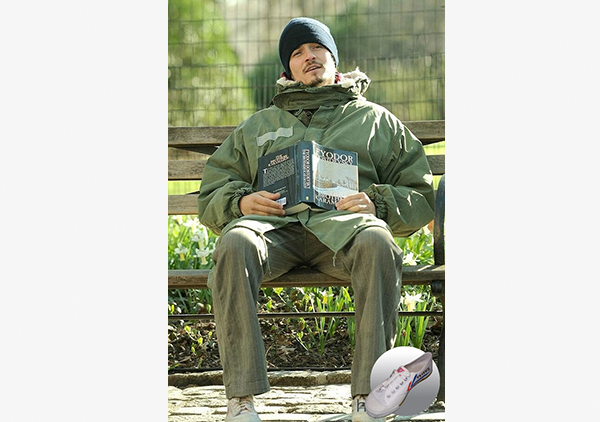 Hollywood actor Orlando Bloom wears China's Feiyue shoes. [Photo provided  to China Daily]
The total sales of Feiyue shoes in 2015 increased by about 10 percent from the year before, with 2 million pairs being sold through offline channels. Online sales are also on the rise.
"We need to be offering diversified products if we are establishing a presence in physical stores and online platforms," said Liu Wangsheng, general manager of Shanghai Shenglong Shoes Co Ltd.
"The shoes that are priced above 200 yuan have been very popular among young people, and we will launch another 28 models in the second half of this year to satisfy the market demand," said Liu.
True origins
Feiyue was first founded in 1963 in Shanghai, inspired by China's Great Leap Forward that took place in 1958. The brand literally means "flying forward" in Chinese and is called "white sneakers" among Shanghai fashionistas.
"The brand was extremely popular among Chinese consumers and was a fashion icon in China back in the 1980s," said Liu, who said that annual sales of Feiyue sneakers had exceeded 4 million pairs during that period, a phenomenal amount during those days.
Back then, Feiyue was the footwear of choice for everyone, from students to peasants to even government officials. Wearing those white sneakers soon became associated with honor and luxury. There was once a widely circulated story about a young man who had walked home barefooted in the rain as he did not want to stain his beloved Feiyue shoes.
Following a series of ownership changes and restructuring-Feiyue is now owned by Double Coin Holdings Ltd, a tyre manufacturer-the brand lost its luster and instead became something only the elderly people or martial arts exponents would wear, mainly because it was cheap and durable. In the late 1990s, Feiyue's manufacturer even had to put the shoes up for sale on the wholesale market because demand was just too low.
When international brands such as Adidas, Nike and Converse started to become popular among the locals at the turn of the century, Shanghai Shenglong Shoes Co Ltd decided to kickstart a revival by relaunching production in 2003 and setting up a design department in 2005 to aid these efforts.