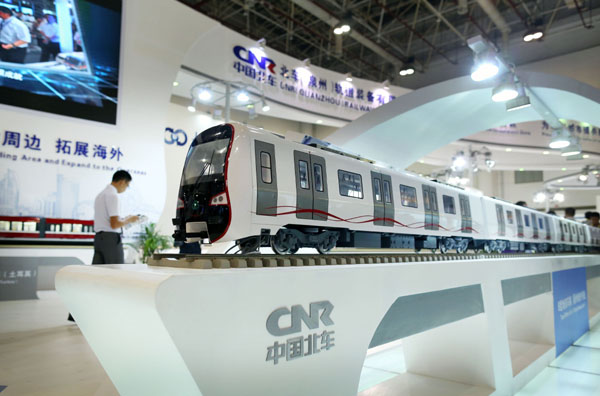 CNR Corp Ltd's stand at the 18th China International Fair for Investment and Trade in Xiamen, Fujian province, on Sept 8, 2014. [Provided to China Daily]
CNR Corp is in talks with 28 countries, including the US, Russia and Brazil, about high-speed rail projects, said executive of the Chinese trainmaker on Wednesday.
Yu Weiping, vice president of CNR, said the merger of the country's top two trainmakers will further strengthen its competitiveness in the global market.
Yu revealed that the CNR is in discussions with countries about new railway projects. The company scored a 68.6 percent year-on-year increase in export in 2014, totaling $3 billion.
However, cost performance, trade barriers, financing cost and working permits hurt its global drive, according to the company. The CNR has a successful bid rate of 50 to 60 percent.
The CNR and CSR announced their plan to merger in December to become the world's largest trainmaker. Shareholders will vote on the move on March 9.
The merger is to "improve the scale of operations, increase profitability and construct a large, comprehensive, world-leading industrial group centered on rail-transportation equipment with multinational operations," CSR and CNR said in a joint statement on Jan 20.
China's railway equipment exports accounted for 10 percent of global market share in 2014, said Wang Xiaotao, vice minister of the National Development and Reform Commission, on Feb 6.
Total exports of railway equipment hit $4 billion in 2014 and major markets include Asia, South Africa and Latin America, said Wang at a press conference.
"There is a global enthusiasm for infrastructure projects, particularly railway building, both in developed and developing countries, providing a good opportunity for China's railway firms to go global," added Wang.
Dai Tian contributed to this story.
Related story: China turns to rail , nuclear to energize exports, by Zhao Yinan, China Daily
China will lift sluggish exports by promoting rail, nuclear power and surplus products in overseas markets after trade growth fell short of its target last year.
The exploration of overseas markets for railways, nuclear power and other sectors involving the use of large-scale equipment will be upgraded through joint-ventures and public-private partnerships, top members of the State Council decided on Wednesday. Premier Li Keqiang presided over the executive meeting.
Industrial resources in those sectors should be integrated, according to a statement released after the meeting. The decision was in line with the ongoing merger of the country's top two train makers, hinting that a similar overhaul in related industries could be possible.
Industries with overcapacity, including steel, nonferrous smelting, building materials and textiles, are also included in China's latest plan to reach out to overseas markets, the statement said.