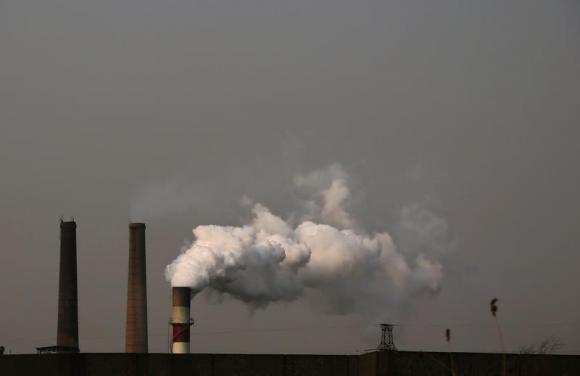 Smoke rises from a chimneys of a steel mill on a hazy day in Fengnan district of Tangshan, Hebei province Feb 18, 2014.[Photo/Agencies]
China Social Welfare Foundation (CSWF), a national public welfare organization, launched a fund on June 5 to tackle environmental pollution in Beijing.
The fund, with a seed funding of 3 million yuan ($456,613), has been set up to assist vulnerable groups who suffer physical ailments, property losses or difficulties caused by pollution, said Miao Li, secretary general of CSWF.
As the first of its kind fund launched by a public welfare organization that targets environmental protection, the fund aims to take targeted measures to help people lift themselves out of poverty, Miao added.
And she promised that all funding would be used in an open and transparent way to assure donators and benefit recipients.
Dr Zhang Guofa, founder and directorof China Eco-civilization Think Tank, which sponsored the fund's launch ceremony, said: "As the cause of both wealth and pollution, we have to make changes in production, living and customs to solve the critical problem of environmental pollution."
He has confidence in the fund's prospect and believes the fund can support the introduction and development of green science and technology and the development of ecological civilization in China,
Professor Liu Xiaoting, vice-president of China Natural Dialectics Research Association, described the establishment of the fund as an awakening of Chinese people towards environmental problems.
"The public's understanding on development should be strengthened from the position of ecology and China should avoid sliding off the ecological cliff," he said.
Professor Ye Pin, a member of the committee for China Eco-civilization Think Tanks, called on the whole society to donate "one yuan" to the fund to prevent environmental pollution.
Ye, who is also director of the Centre for Environmental and Social Studies of Harbin Institute of Technology, proposed that every company should undertake the responsibility of environmental pollution prevention without ignoring, delaying, or ignoring it.
"They should pay as much attention on 'public benefit' as they pay on economic benefit," he said.
More than 200 officials, scholars and environmentalists attended the launch ceremony, organized by CSWF and China Weekly, and sponsored by China Eco-civilization Think Tank and Beijing Chunzhilv Environmental Technology Institute.
Zhu Lingqing contributed to this story.