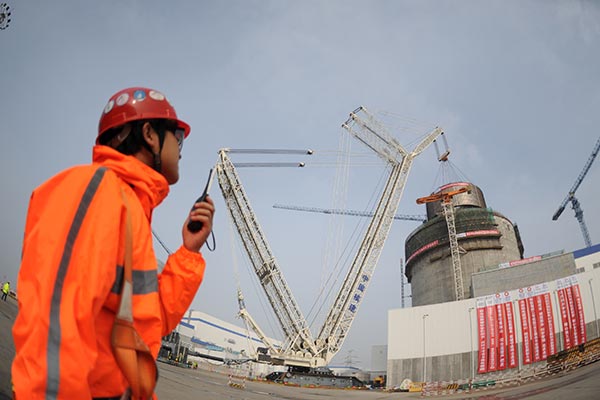 A worker monitors a construction site at Haiyang nuclear power plant in Shandong province. TANG KE / FOR CHINA DAILY

Officials say landmark project in Zhejiang is firmly on track
The world's first unit using Westinghouse Electric Company LLC's AP1000 nuclear reactor design is expected to be online this year in China, with a second unit operational by June next year, nuclear officials said on Wednesday.
Wang Jun, chief engineer of State Power Investment Corp, said if everything goes smoothly, the Sanmen one unit in Zhejiang province will be operating in 2016, while cold testing at Haiyang nuclear power plant in Shandong province will start in June, which will be connected to the grid in February next year.
A total of six nuclear reactor units are planned for the Sanmen project, which is being built in three stages.
Wang was speaking at the 14th China International Nuclear Industry Exhibition, and 20th Pacific Basin Nuclear Conference, being held in Beijing.
The State-owned company was created last year with a merger between China Power Investment Corp and State Nuclear Power Technology Corp, Westinghouse's long-standing partner in China.
Building started in 2009 on the first AP1000 unit in China, a type of third-generation nuclear technology developed by Westinghouse.
But the project was delayed for more than three years, because of the problems of some key components as well as the impact of the Japan's Fukushima disaster, which put a pause on the global nuclear industry in general.
Gavin Liu, president in Asia for Westinghouse, said despite the delay, the project is now firmly on track.
"It is a very exciting time for us," he said.
"The coolant pumps arrived for the two reactor units last year and the plant at Sanmen is to load its fuel soon," he said.
China is embarking on a massive program of nuclear power plant construction with approvals already given for up to eight new reactors annually.
The country is also developing its own nuclear technology, the Hualong One rector, a rival third-generation design developed by China National Nuclear Corp and China General Nuclear Power Group, two major nuclear players.
Commenting on the competition with Hualong One, Jim Brennan, senior vice-president of engineering center of excellence at Westinghouse, said it recognizes other nuclear designs exist in the world, but that its long track record allows it to compete with its rivals.
"Competition is not something new to us. The AP1000, with its passive safety system, stands out in terms of the economics involved," he said.
Liu added Turkey, Bulgaria, some countries in South America and Asia, are all considered target markets for the AP1000 design.
In 2014, Westinghouse signed an agreement for exclusive negotiations with SNPTC and the Turkish government to develop and construct a four-unit AP1000 nuclear power station in Turkey.